From GMM
Jenson Button says there has been "no progress" recently regarding his contract talks with McLaren.
With Kevin Magnussen having debuted for the Woking team in 2014, it has been rumoured McLaren supremo Ron Dennis perhaps wants to pair the young Dane with Fernando Alonso next season.
Indeed, with Button out of contract at the end of the season, and set to turn a stately 35 before the 2015 championship, it appears the Briton is the logical target should McLaren be considering a cockpit vacancy.
But, just last week, team boss Eric Boullier said in McLaren's official Montreal preview statement that Button in fact "continues to be an absolutely fantastic ambassador" for McLaren, who are switching to works Honda power in 2015.
"Not only is he a fantastic driver," Eric Boullier added, "he's also somebody with the feel and experience to steer the team and give it direction for development. His input has been invaluable, and he remains a tireless contributor."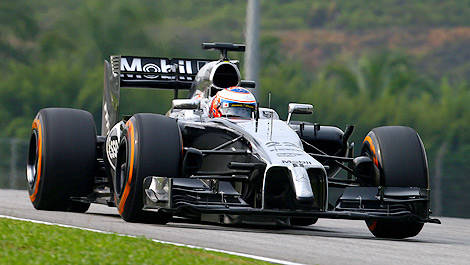 Jenson Button, McLaren MP4-29-Mercedes. (Photo: WRi2)
Asked if that sounds as though McLaren is moving to re-sign the 2009 world champion, Button said on Thursday: "Er, no. No more progress at all. But that's just the way it is.
"We're here, in our fifth good year together. And we both want to work together in the future but it's just not time yet. Not the right time," he insisted.
"We have a lot of other issues to solve first before we start thinking about the future too much," said Jenson Button.
At the very least, Button indicated that he is keen to stay in formula one beyond 2014, with next season set to be his sixteenth on the grid.
"I still feel very young at heart, fitter than ever and I have all that experience," he said. "I definitely can't see an end to my career. This is my life and where I want to be in the future."