From GMM
Kamui Kobayashi threw fresh doubt on Caterham's future during the Russian grand prix.
The Japanese, whose own future with the struggling backmarker team is also unclear, retired from the inaugural Sochi race mid-distance.
"Nothing wrong with the car," he told
BBC
radio immediately after retiring.
"The team asked me to stop the car to save mileage.
"We have a lot of mileage limitation to avoid things going wrong with the parts. This is why I got the message from top management," Kobayashi added.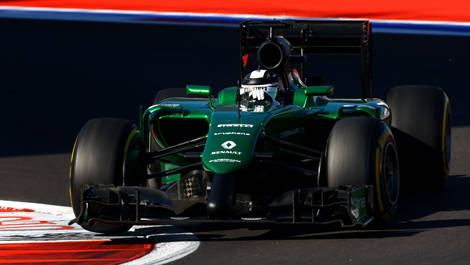 Kamui Kobayashi, Caterham CT05 (Photo: WRI2)
He also told British television
Sky
he is not sure if he will be in the car for the remaining three races of 2014.
Caterham's official explanation for the Kobayashi retirement, however, was that the brakes on his car overheated.
In the post-race team statement, the team quoted the 28-year-old driver as saying: "It was all a bit of a surprise to me and at first I didn't really know what the reason for having to stop was.
"The team has now analysed the telemetry and it was clear that my brakes were overheating too much," Kobayashi added.