Sebastian Vettel (Red Bull) is still the man to beat in F1, despite rumours his team fitted a traction control system to his car. The young German recorded his third consecutive pole by beating Lewis Hamilton (Mercedes) to the pole, ahead of the 2013 Korean Grand Prix, in Yeongam.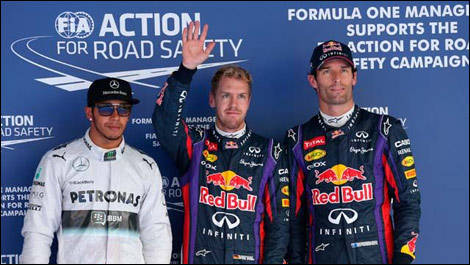 Lewis Hamilton, Sebastian Vettel, Mark Webber (Photo: WRi2)
Vettel's 42nd pole position is also Renault's 208th, which means the french manufacturer is now tied with Ferrari at the top of the list for the most poles by engine make.
Hamilton showed speed, but nothing to match Vettel, who only needed one lap to secure his place at the very front of the grid. Mark Webber (Red Bull) qualified third, but will start only 13th, as he moves back 10 spots for his involvement in the taxi incident with Fernando Alonso (Alonso) in Singapore.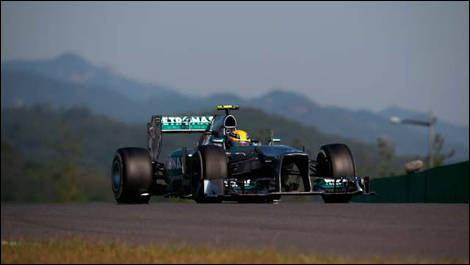 Lewis Hamilton, Mercedes W04 (Photo: WRi2)
Romain Grosjean (Lotus) was the first to take advantage of Webber's penalty, as the Frenchman set the fourth fastest time. Nico Rosberg (Mercedes) will line up beside him on the second row.
Alonso and his teammate Felipe Massa qualified fifth and sixth, ahead of the two Sauber drivers Nico Hulkenberg and Esteban Gutierrez, who both made it into the top 10 for the first time of the season.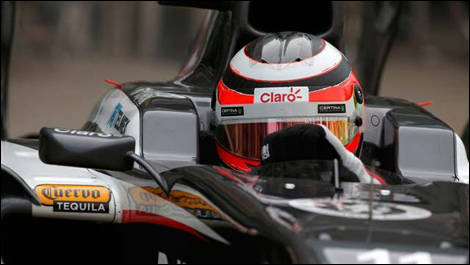 Nico Hulkenberg, Sauber C32 (Photo: WRi2)
They beat Kimi Raikkonen (Lotus), whose back still hurts. Meanwhile, Sergio Perez (McLaren) narrowly out-qualified his teammate Jenson Button for 10th place.
Jules Bianchi (Marussia) avoided being the slowest driver in qualifying by beating his teammate Max Chilton, but will start last anyway because he blocked Paul di Resta (Force India) during Q1.
Earlier in the day, Vettel had led Webber to a Red Bull 1-2 during the last final free practice session. Rosberg, Hamilton and Alonso completed the top 5.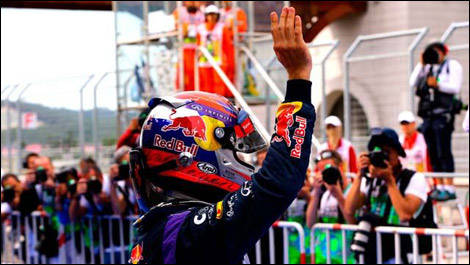 Sebastian Vettel (Photo: WRi2)
Qualifying results* – Korean Grand Prix (Yeongam circuit)
1.Sebastian Vettel (Red Bull RB9-Renault) - 1'37"202 - Q3
2.Lewis Hamilton (Mercedes W04) - 1'37"420 - Q3
3.Romain Grosjean (Lotus E21-Renault) - 1'37"531 - Q3
4.Nico Rosberg (Mercedes W04) - 1'37"679 - Q3
5.Fernando Alonso (Ferrari F138) - 1'38"038 - Q3
6.Felipe Massa (Ferrari F138) - 1'38"223 - Q3
7.Nico Hulkenberg (Sauber C32-Ferrari) - 1'38"237 - Q3
8.Esteban Gutierrez (Sauber C32-Ferrari) - 1'38"405 - Q3
9.Kimi Raikkonen (Lotus E21-Renault) - 1'38"822 - Q3
10.Sergio Perez (McLaren MP4/28-Mercedes) - 1'38"362 - Q2
11.Jenson Button (McLaren MP4/28-Mercedes) - 1'38"385 - Q2
12.Daniel Ricciardo (Toro Rosso STR8-Ferrari) - 1'38"417 - Q2
13.Mark Webber (Red Bull RB9-Renault) - 1'37"464 - Q3 **
14.Adrian Sutil (Force India VJM06-Mercedes) - 1'38"431 - Q2
15.Paul Di Resta (Force India VJM06-Mercedes) - 1'38"718 - Q2
16.Jean Eric Vergne (Toro Rosso STR8-Ferrari) - 1'38"781 - Q2
17.Valtteri Bottas (Williams FW35-Renault) - 1'39"470 - Q1
18.Pastor Maldonado (Williams FW35-Renault) - 1'39"987 - Q1
19.Charles Pic (Caterham CT03-Renault) - 1'40"864 - Q1
20.Giedo Van der Garde (Caterham CT03-Renault) - 1'40"871 - Q1
21.Max Chilton (Marussia MR02-Cosworth) - 1'41"322 - Q1
22.Jules Bianchi (Marussia MR02-Cosworth) - 1'41"169 - Q1***
*Unofficial timing
**10-place grid penalty
***3-place grid penalty