Lotus F1 team boss, Eric Boullier gave Kimi Raikkonen a perfect grade of 10/10 for his performance during the first half of the 2013 season.
"We're here to win, and the victory for Kimi at the opening race in Melbourne was a special moment for the whole team," said Boullier in an interview posted by Lotus F1 Team.
"I would have to give Kimi 10 out of 10. He's done a terrific job right from the beginning of the season and his remarkable run of twenty-seven consecutive points finishes speaks for itself. No matter what happens he's always there, as we saw in the final few laps at Monaco. He is playing a big part in pushing the team forwards, and of course having such a popular character in the seat has its advantages too," Boullier explained.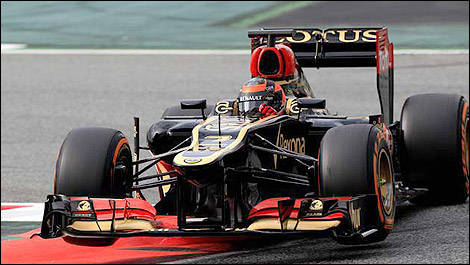 Kimi Raikkonen, Lotus E21. (Photo: WRi2)
A clear step forward from last year

"We've taken eight podiums from ten races so far, which is a great achievement for the team and shows that once again we've clearly made a step forwards from the previous year. Of course, amongst those highlights we've had three races – Monaco, Montréal and Silverstone – where we did not score as many points as we should have done, but the important thing is that we recovered from these small blips to challenge for wins at the Nürburgring and also in Budapest," Boullier added.
The French engineer also talked about the performance of Romain Grosjean.
"For Romain it was a more difficult start to the year coming off the back of a tough season in 2012, and it maybe took him a little while to settle down and start performing to the best of his ability," he said.
"With that in mind, it gives me great pleasure to see him learn from those experiences and to really start delivering the kind of results we've always known he is capable of. In Germany and Hungary he really put together the complete package over two consecutive weekends, and this should now be his baseline. He knows that if he wants to be winning races and fighting for championships then he must deliver this kind of quality drive at every Grand Prix. If he can keep up this level, Romain can be a future contender for titles, I'm sure of it," Boullier declared.