From press release
2008 world champion Lewis Hamilton has bounced back superbly from a disappointing first race two weeks ago in Australia by claiming his second pole position of the season, Saturday ahead of the Malaysian Grand Prix.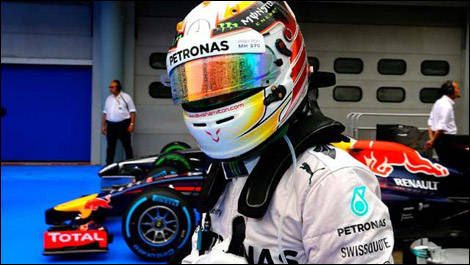 Lewis Hamilton (Photo: WRi2)
The Brit paced a wet qualifying session from behind the wheel of his Mercedes W05. So wet in fact, the start of the session had to be delayed by 50 minutes. By then, it was dry enough for drivers to use intermediates.
But heavy downpours soaked the track for Q2 and Q3.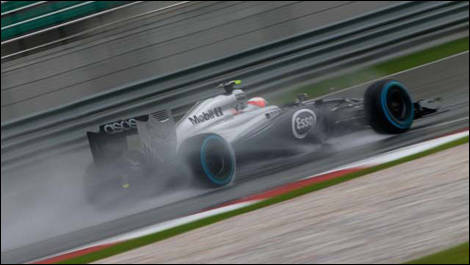 Kevin Magnussen, McLaren MP4-29 (Photo: WRi2)
Hamilton was obviously very happy to score Mercedes' 101st pole in F1: "I'm really happy with our result today. It was a very close session and I'm relieved to come away with pole position as it was pretty tense towards the end," he said.
In the sister car, Nico Rosberg was able to snatch third from Ferrari's Fernando Alonso.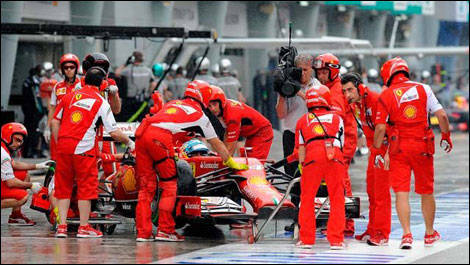 Fernando Alonso, Ferrar F-14T (Photo: WRi2)
Mercedes' executive director Paddy Lowe praised his drivers for navigating so the challenges of the session.
"The rain was stopping and starting throughout, which made it especially challenging to judge the track conditions in each part of qualifying," he pointed out.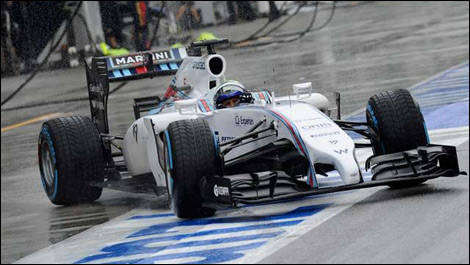 Felipe Massa, Williams FW36 (Photo: WRi2)
"While a wet session is stressful for the team, it's toughest of all for the drivers, who cannot afford to put a foot wrong."
The weather for the race is expected to be the same as it was for qualifying. But if the track is dry tomorrow, drivers will be allowed to choose which dry tire to use because they qualified on wets.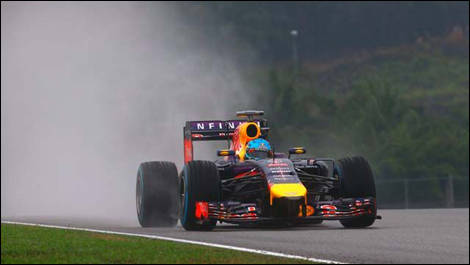 Sebastian Vettel, Red Bull RB10 (Photo: WRi2)
Qualifying results* – Malaysian Grand Prix (round 2 of 19)
1.Lewis Hamilton (Mercedes W05) - 1'59"431 - Q3
2.Sebastian Vettel (Red Bull RB10-Renault) - 1'59"486 - Q3
3.Nico Rosberg (Mercedes W05) - 2'00"050 - Q3
4.Fernando Alonso (Ferrari F14-T) - 2'00"175 - Q3
5.Daniel Ricciardo (Red Bull RB10-Renault) - 2'00"541 - Q3
6.Kimi Raikkonen (Ferrari F14-T) - 2'01"218 - Q3
7.Nico Hulkenberg (Force India VJM07-Mercedes) - 2'01"712 - Q3
8.Kevin Magnussen (McLaren MP4/29-Mercedes) - 2'02"213 - Q3
9.Jean-Eric Vergne (Toro Rosso STR9-Renault) - 2'03"078 - Q3
10.Jenson Button (McLaren MP4/29-Mercedes) - 2'04"053 - Q3
11.Daniil Kvyat (Toro Rosso STR9-Renault) - 2'02"351 - Q2
12.Esteban Gutierrez (Sauber C33-Ferrari) - 2'02"369 - Q2
13.Felipe Massa (Williams FW36-Mercedes) - 2'02"460 - Q2
14.Sergio Perez (Force India VJM07-Mercedes) - 2'02"511 - Q2
15.Romain Grosjean (Lotus E22-Renault) - 2'02"885 - Q2
16.Pastor Maldonado (Lotus E22-Renault) - 2'02"074 - Q1
17.Adrian Sutil (Sauber C33-Ferrari) - 2'02"131 - Q1
18.Valtteri Bottas (Williams FW36-Mercedes) - 2'02"756 - Q2**
19.Jules Bianchi (Marussia MR03-Ferrari) - 2'02"702 - Q1
20.Kamui Kobayashi (Caterham CT05-Renault) - 2'03"595 - Q1
21.Max Chilton (Marussia MR03-Ferrari) - 2'04"388 - Q1
22.Marcus Ericsson (Caterham CT05-Renault) - 2'04"407 - Q1
*Unofficial timing**3-place grid penalty for blocking Daniel Ricciardo in Q2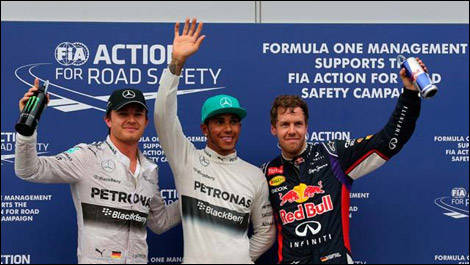 Nico Rosberg, Lewis Hamilton, Sebastian Vettel (Photo: WRi2)