Lotus' drivers Romain Grosjean and Pastor Maldonado Friday endured a frustrating first day of the Malaysian Grand Prix at Sepang International Circuit.
Grosjean managed to complete 14 laps of the circuit in the afternoon while Maldonado only lapped the track twice during both sessions.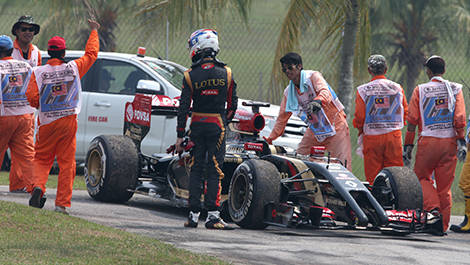 Pastor Maldonado, Lotus. (Photo: WRi2)
Several glitches reduced running for both drivers in the morning session, the most serious of which being an engine-related issue for Maldonado, the resultant engine change precluding him from running in the afternoon.
Grosjean's afternoon saw a collection of problems too, with a wiring problem preventing the gearbox from working correctly.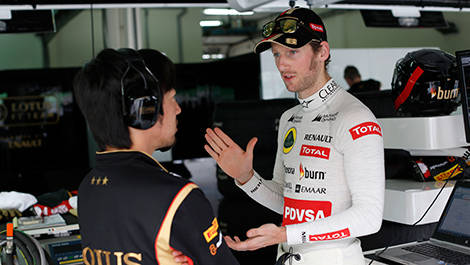 Romain Grosjean, Lotus. (Photo: WRi2)
"Not a great day, quite far from it in fact. Both cars were delayed in the morning with mapping issues," said Nick Chester, Lotus' technical director.
"Pastor then suffered from a turbo-related problem with his car. This meant we needed to remove the engine and subsequently he was unable to run in the afternoon. Romain was able to get some more laps in the afternoon, however a wiring issue caused difficulties with his gearbox. More lessons learnt, and we'll be focusing on getting as much mileage as possible tomorrow."