The first practice sessions for the Malaysian Grand Prix took place today in the heat of the Sepang circuit and saw Mercedes AMG's Nico Rosberg capture the fastest time of the day.
It was a very busy day, and also extremely competitive as the top six cars in the second session were covered by just 0.203s, the equivalent to just 12 metres or two and a half car lengths.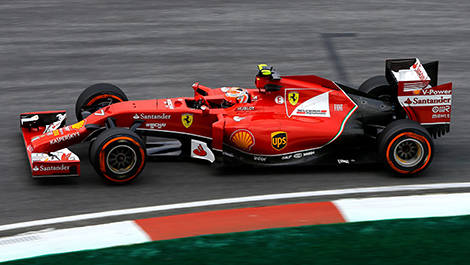 Kimi Raikkonen, Ferrari F14 T. (Photo: WRi2)
Rosberg's teammate, Lewis Hamiton ran his Melbourne V6 Power Unit all day, following the resolution of the problem with the ignition system that caused his misfire in Australia.
"It was crazy conditions out there. In the very, very warm temperatures, it's a huge challenge to get everything right," said Nico Rosberg, the winner in Australia two weeks ago.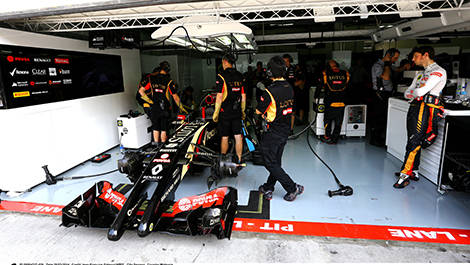 Romain Grosjean, Lotus E22-Renault. (Photo: WRi2)
"The cars are on the edge and the tire degradation was higher than expected today - we are sliding a bit more this year, perhaps because of the reduced downforce levels. We are still having some small issues and therefore we were not able to maximize everything today. The quickest teams seem to be closer together than in Australia, so we still have work to do overnight to improve our level of performance".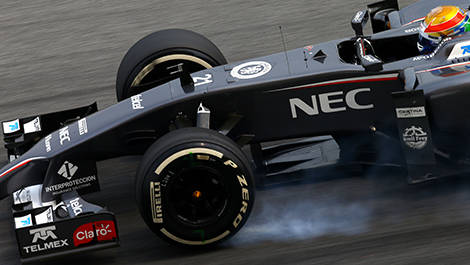 Esteban Gutierrez, Sauber C33-Ferrari. (Photo: WRi2)
2014 Malaysian Grand Prix

Free Practice 1 - Results*

1 - Lewis Hamilton (Mercedes W05) – 1'40"691 - 19 laps
2 - Kimi Raikkonen (Ferrari F14-T) - 1'40"843 - 20
3 - Nico Rosberg (Mercedes W05) - 1'41"028 - 19
4 - Jenson Button (McLaren MP4-29-Mercedes) - 1'41"111 - 20
5 - Kevin Magnussen (McLaren MP4-29-Mercedes) - 1'41"274 - 18
6 - Jean-Eric Vergne (Toro Rosso STR9-Renault) - 1'41"402 - 15
7 - Sebastian Vettel (Red Bull RB10-Renault) - 1'41"523 - 9
8 - Nico Hulkenberg (Sahara Force India VJM07-Mercedes) - 1'41"642 - 19
9 - Felipe Massa (Williams FW36-Mercedes) - 1'41"686 - 23
10 - Valtteri Bottas (Williams FW36-Mercedes) - 1'41"833 - 22
11 - Fernando Alonso (Ferrari F14-T) - 1'41"923 - 14
12 - Daniel Ricciardo (Red Bull RB10-Renault) - 1'42"117 - 20
13 - Adrian Sutil (Sauber C33-Ferrari) - 1'42"365 - 21
14 - Daniil Kvyat (Toro Rosso STR9-Renault) - 1'42"869 - 21
15 - Esteban Gutierrez (Sauber C33-Ferrari) - 1'42"904 - 23
16 - Jules Bianchi (Marussia MR03-Ferrari) - 1'43"825 - 18
17 - Marcus Ericsson (Caterham CT05-Renault) - 1'45"775 - 24
18 - Max Chilton (Marussia MR03-Ferrari) - 1'46"911 - 10
19 - Kamui Kobayashi (Caterham CT05-Renault) - 1'51"180 - 5
20 - Sergio Perez (Sahara Force India VJM07-Mercedes) - no time - 2
21 - Pastor Maldonado (Lotus E22-Renault) - no time - 2
22 - Romain Grosjean (Lotus E22-Renault) - no time - 4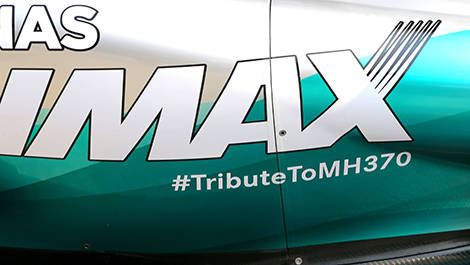 Tribute To MH370 on the Mercedes W05. (Photo: WRi2)
Free Practice 2 - Results*

1 - Nico Rosberg (Mercedes W05) - 1'39"909 - 30 laps
2 - Kimi Raikkonen (Ferrari F14-T) - 1'39"944 - 30
3 - Sebastian Vettel (Red Bull RB10-Renault) - 1'39"970 - 30
4 - Lewis Hamilton (Mercedes W05) - 1'40"051 - 32
5 - Fernando Alonso (Ferrari F14-T) - 1'40"103 - 29
6 - Felipe Massa (Williams FW36-Mercedes) - 1'40"112 - 34
7 - Daniel Ricciardo (Red Bull RB10-Renault) - 1'40"276 - 29
8 - Jenson Button (McLaren MP4-29-Mercedes) - 1'40"628 - 28
9 - Valtteri Bottas (Williams FW36-Mercedes) - 1'40"638 - 35
10 - Nico Hulkenberg (Sahara Force India VJM07-Mercedes) - 1'40"691 - 34
11 - Jean-Eric Vergne (Toro Rosso STR9-Renault) - 1'40"777 - 33
12 - Kevin Magnussen (McLaren MP4-29-Mercedes) - 1'41"014 - 20
13 - Adrian Sutil (Sahara Force India VJM07-Mercedes) - 1'41"257 - 28
14 - Daniil Kvyat (Toro Rosso STR9-Renault) - 1'41"325 - 32
15 - Esteban Gutierrez (Sauber C33-Ferrari) - 1'41"407 - 34
16 - Sergio Perez (Sahara Force India VJM07-Mercedes) - 1'41"671 - 25
17 - Romain Grosjean (Lotus E22-Renault) - 1'42"531 - 14
18 - Max Chilton (Marussia MR03-Ferrari) - 1'43"638 - 20
19 - Jules Bianchi (Marussia MR03-Ferrari) - 1'43"752 - 29
20 - Marcus Ericsson (Caterham CT05-Renault) - 1'45"703 - 31
21 - Kamui Kobayashi (Caterham CT05-Renault) - no time - 0
22 - Pastor Maldonado (Lotus E22-Renault) - no time - 0
* Unofficials timings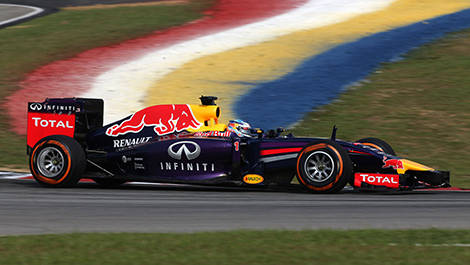 Sebastian Vettel, Red Bull RB10-Renault. (Photo: WRi2)