From GMM
Marco Mattiacci has repeated his claim that Ferrari is keeping its driver lineup for 2015.
At Spa, the British broadcaster
Sky
made waves when it quoted the Maranello team's chief as admitting both Fernando Alonso and Kimi Raikkonen will still be wearing red next year.
That is despite intense speculation particularly about the future of Spaniard Alonso, who is reportedly disgruntled after five years of failing to win a third title with Ferrari.
Following the Sky report, the correspondent for the Spanish sports daily
Marca
, Marco Canseco, also asked Mattiacci to 'confirm' Alonso and Raikkonen for 2015.
"If you want, I can confirm them to you," Marco Mattiacci responded. "Both have contracts and there is not much to say on this matter other than that they are the two best drivers for us."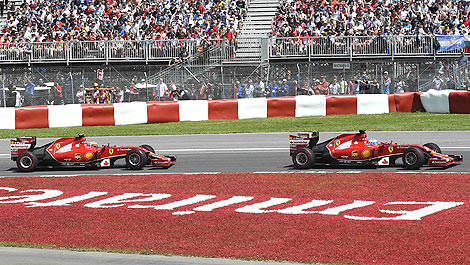 Fernando Alonso and Kimi Raikkonen, Ferrari F14 T. (Photo: WRi2)
But while Monza is often the scene of an official Ferrari announcement, the Italian grand prix is also a reliable hotbed of 'silly season' rumours.
At Spa last weekend for example, Alonso and his manager were spotted entering the Red Bull motorhome, amid wild rumours Sebastian Vettel could be lured next year to McLaren-Honda.
Canseco acknowledges the official story that Alonso was simply asked by the Red Bull engineer Paul Monaghan, formerly of Renault, to sign a t-shirt for his son.