From GMM
Marshals have been trained more thoroughly than before ahead of this weekend's Canadian grand prix.
A year ago in Montreal, F1 was mourning its first fatality in over a decade, after track marshal Mark Robinson was crushed by a recovery vehicle as he helped to move Esteban Gutierrez's retired Sauber.
A subsequent investigation showed that the driver of the crane was not properly trained to operate it.
So the
Montreal Gazette
reports this week that marshals using the cranes have now all been trained, according to the workplace safety board CSST.
The newspaper said the Montreal race promoter Octane, and the automobile club de l'Ile Notre Dame, were fined by the board as a result of the death.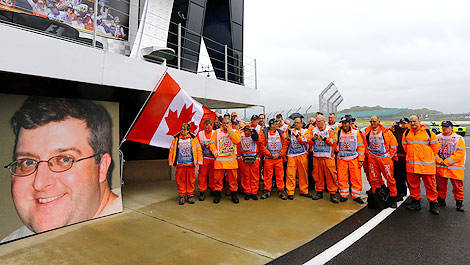 One minute silence in memory of the Montreal marshal Mark Robinson at Silverstone. (Photo: WRi2)