Briton Graeme Lowdon, sporting director of Marussia Formula 1 Team, spoke to the reporters in the paddock osf the Sochi Autodrom.
Lowdon said the entire Marussia team was deeply moved by the incredible support his team has received in the paddock in recent days in the wake of Jules Bianchi's terrible accident at the Japanese Grand Prix last Sunday.
"It's been an incredibly difficult week for Formula 1, but it's been an incredibly difficult week for our team," Lowdon declared in Russia.
"As you know, our driver Jules Bianchi had a terrible accident in Suzuka. He's in hospital there. He's in a critical condition and the thoughts of everybody in the team, and I know much wider than that, are with Jules at this moment and also with his family," he continued.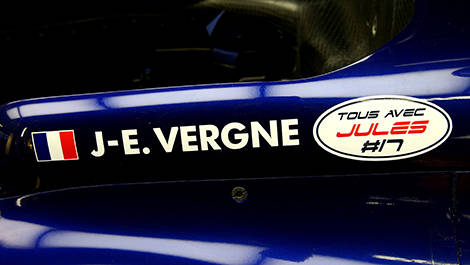 Jean-Eric Vergne had decals made to support his friend. (Photo: WRI2)
"I'd like to personally thanks Marco Mattiacci for his support and kindness, not just in his role at Ferrari, but personally as well. He was at the hospital immediately afterwards and I know provided an awful lot of comfort to those that were there.
"The Ferrari team also arranged for Professor Alessandro Frati to be present and I know that gave an awful lot of comfort to us, to the people that were there at the hospital and the family.
"Also at the hospital was Professor Gérard Saillant from the FIA and I think we have to thank Jean Todt for arranging that. I think that was extremely helpful as well and certainly provided support to us' Lowdon continued.
"None of us are medical people – we can't help in that area – but we can provide another form of support, which we hope helps at a really difficult time. From a team point of view we want to thank everyone who has provided support, especially the fans," Lowdon ended.