Dutch teenager Max Verstappen is back behind the wheel of a Toro Rosso Formula 1 car in order to get his super licence.
We remember that Verstappen recently damaged the Toro Rosso as he hit the barriers when performing donuts on the streets of Rotterdam.
The 16-year-old is in action today at Adria International Raceway, driving a two-year old Ferrari-powered Toro Rosso F1 car.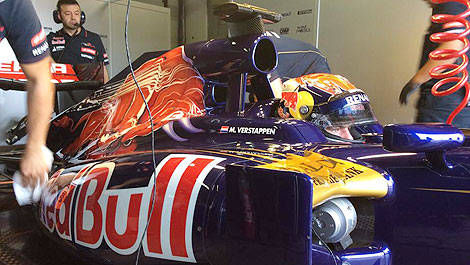 Max Verstappen. (Photo: Scuderia Toro Rosso)
The objective for Verstappen is to cover 300km in testing to be awarded his super licence.
Earlier, it was announced that Max could make his debut in this year's Toro Rosso ahead of the US, Brazilian and Abu Dhabi Grands Prix at the tail end of the season.
Max Verstappen. (Photo: Scuderia Toro Rosso)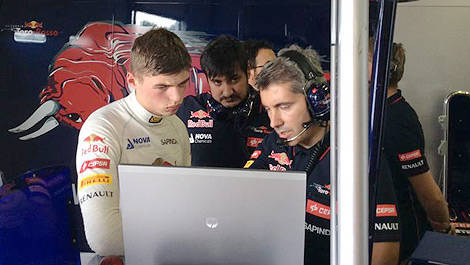 Max Verstappen. (Photo: Scuderia Toro Rosso)
From the press release
The 16-year-old Dutchman, who will race alongside Daniil Kvyat next year for Scuderia Toro Rosso drove the 2012 STR7 car at the Adria International Raceway, about two hour's drive away from our Faenza factory.
The track was still damp in the morning after overnight rain and Verstappen's first few runs were done on Intermediate tyres, but conditions improved enough for him to switch to slicks later in the day.
He did a mix of short and long runs as well as trying his hand at other features of a race weekend, such as pit stops and start launches. By the end of the day he had completed 148 trouble free laps of the 2.702 kilometre long track.
Max Verstappen: "I was looking forward to my first drive in a Formula 1 car on a proper race track and I really enjoyed it. It was a good opportunity to work with Xevi, who will be my race engineer next year, as well as having a chance to get used to all the buttons on the steering wheel. I think it went well and I can't wait to get back into a Formula 1 car as soon as possible."
Steve Nielsen (Sporting Director): "In his first real test in a Formula 1 car, Max did a very competent job, giving the impression he has been driving a Formula 1 car for quite a while, not like someone on their first day behind the wheel. He made no mistakes all day, seemed confident and once he was told something he remembered it. In general, he coped very well with this first test."
Xevi Pujolar (Race Engineer): "Max started his run on Intermediates and got up to speed, making no mistakes. We worked through various procedures that make up a race weekend. He was very focused and precise and learned quickly, without having to ask many questions. Once we were able to fit slicks, he got used to the car in the dry and built up his speed, while we tried various fuel levels, replicating both qualifying and race trim, doing a mix of short and long runs. For a first day, it was very impressive."