Bernadette Collins is one the (very) rare female engineers to work in Formula 1. Surprisingly, she was not a fan of motorsport until she completed her Mechanical Engineering degree at Queen's University in Belfast, Northern Ireland.
"In fact, I discovered motorsport when I got involved in the Formula Student project where we had to design and build a race car," Bernadette Collins said.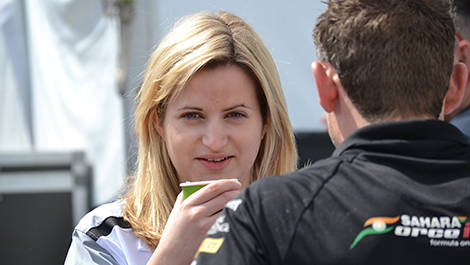 Bernadette Collins, 2014 Canadian Grand Prix (Photo: René Fagnan)
"The position within McLaren Racing was advertised through the Mechanical Engineering department within Queen's University. After a series of interviews and an assessment centre I was offered a position on the Graduate scheme," she explained.
Additionally, Bernadette is also an ambassador for the government's "Make it in Great Britain" campaign.
Last year, she became the performance engineer for British driver Jenson Button.
Her work at McLaren has allowed her to work on some "amazingly cool" projects.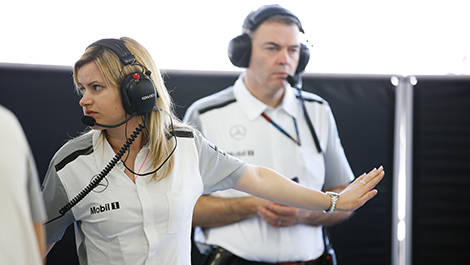 Bernadette Collins at work in the Mclaren garage. (Photo: McLaren)
"Our work involves being creative and overcoming design challenges -- not assembling greasy machinery in a workshop. We don't fit the old engineering stereotypes."
Bernadette Collins never considered the gender of the people behind the technology. It remains a non-issue for her.
"We've got some of the best engineers in the business," she told The Guardian. "Whether it's a male or a female doing the job really doesn't matter."
But we were curious to know if it was difficult to be in the minority?
"I've never really noticed it," she replied. "The number of women in engineering and motorsport is increasing all the time, and I wouldn't want any young female engineers to be put off by a so-called gender division."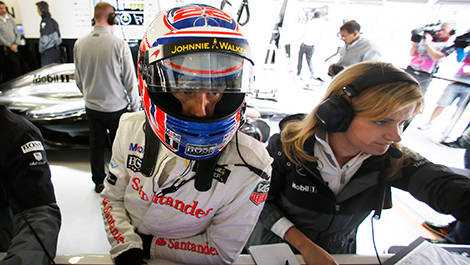 Jenson Button, helmet on, with Bernadette Collins in the McLaren garage. (Photo: McLaren)
Jenson Button sees no problem with working with the female engineer.
"She's Irish, so some of the words are a little bit tricky to understand. I have to turn up the volume of my radio because she's softly spoken," he recently said to
Sky Sports F1
.
Bernadette had the final word on this. "It's a job, and I am here to do a job," she said.