Mercedes AMG drivers Nico Rosberg and Lewis Hamilton resumed their intense battle for the 2014 Formula 1 world title Friday at Suzuka, Japan.
In the morning session, Rosberg edged out Hamilton by just 0.151 seconds, setting the best time of 1m35.461 to Hamilton's 1m35.612.
Hamilton had a couple of minor offs exiting the second of the Degner Curves, but appeared to have very strong race pace during longer run simulations.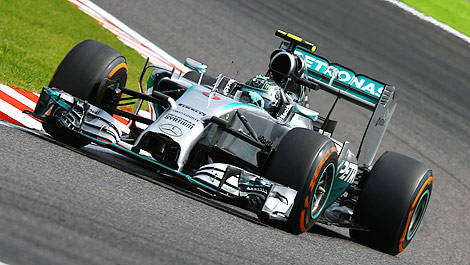 Nico Rosberg, Mercedes AMG. (Photo: WRi2)
Ferrari's Fernando Alonso was their closest pursuer on 1m36.037, 0.727s adrift of Rosberg, while teammate Kimi Raikkonen set the fifth fastest time despite finishing one second further down the road, on 1m37.187. Valtteri Bottas who took his Mercedes-powered Williams round in 1m36.576 separated them.
One of the main focal points of the 90-minute session was the official Grand Prix weekend debut of Max Verstappen.
The 17-year-old Dutchman hardly put a wheel wrong and was 12th fastest on 1m38.157s in the second Toro Rosso, and given his inexperience of both car and track the 0.443s gap to Kvyat was very respectable.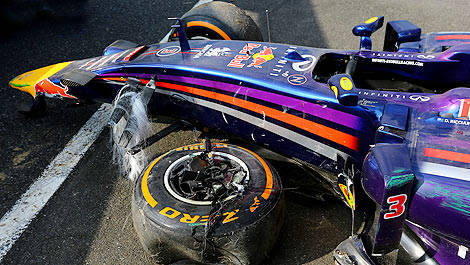 Daniel Ricciardo's Red Bull in FP2. (Photo: WRi2)
Second practice session
Hamilton turned the tables on Rosberg in a scrappy second practice session in which there were several crashes, two red flag periods, and light rain towards the end.
Hamilton topped the times with 1m35.078, 0.240s ahead of Rosberg. Bottas was their nearest challenger in third, followed by Jenson Button in a McLaren, Sebastian Vettel (Red Bull Racing) and the Ferraris of Kimi Raikkonen and Fernando Alonso.
Kamui Kobayashi lost the rear of his Caterham through the esses and spinning backwards into the barriers - causing damage to the rear suspension and front wing.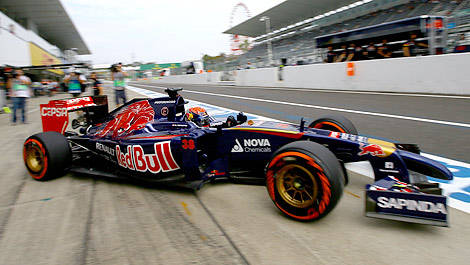 Max Verstappen, Toro Rosso. (Photo: WRi2)
Soon after Daniel Ricciardo took his Red Bull round in the fastest time before an odd accident in the final corner. He ran wide on the exit and locked up he slid helplessly through the gravel and into the outer wall.
Sauber's Esteban Gutierrez also crashed, hitting the barriers on the outside of the Spoon Curve.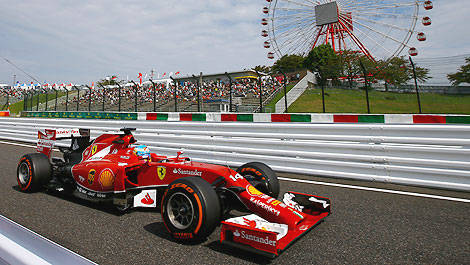 Fernando Alonso, Ferrari. (Photo: WRi2)
Free Practice session 1 - Results*

1 - Nico Rosberg (Mercedes W05) - 1m35.461 - 27 laps
2 - Lewis Hamilton (Mercedes W05) - 1m35.612 - 26
3 - Fernando Alonso (Ferrari F14 T) - 1m36.037 - 19
4 - Valtteri Bottas (Williams FW36-Mercedes) - 1m36.576 - 25
5 - Kimi Raikkonen (Ferrari F14 T) - 1m37.187 - 19
6 - Kevin Magnussen (McLaren MP4-29-Mercedes) - 1m37.327 - 24
7 - Daniel Ricciardo (Red Bull RB10-Renault) - 1m37.466 - 27
8 - Jenson Button (McLaren MP4-29-Mercedes) - 1m37.649 - 24
9 - Sebastian Vettel (Red Bull RB10-Renault) - 1m37.686 - 26
10 - Daniil Kvyat (Toro Rosso STR9-Renault) - 1m37.714 - 26
11 - Felipe Massa (Williams FW36-Mercedes) - 1m38.012 - 22
12 - Max Verstappen (Toro Rosso STR9-Renault) - 1m38.157 - 22
13 - Sergio Perez  Force India VJM07-Mercedes) - 1m38.324 - 10
14 - Nico Hulkenberg  Force India VJM07-Mercedes) - 1m38.582 - 9
15 - Romain Grosjean (Lotus E22-Renault) - 1m38.851 - 21
16 - Adrian Sutil (Sauber C33-Ferrari) - 1m39.046 - 19
17 - Pastor Maldonado (Lotus E22-Renault) - 1m39.097 - 26
18 - Esteban Gutierrez (Sauber C33-Ferrari) - 1m39.318 - 18
19 - Marcus Ericsson (Caterham CT05-Renault) - 1m40.031 - 18
20 - Roberto Merhi (Caterham CT05-Renault) - 1m41.472 - 24
21 - Jules Bianchi (Marussia MR03-Ferrari) - 1m41.580 - 10
22 - Max Chilton (Marussia MR03-Ferrari) - 1m41.757 - 15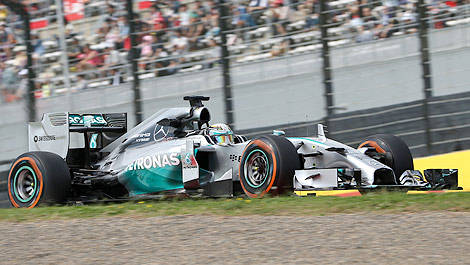 Lewis Hamilton, Mercedes AMG. (Photo: WRi2)
Free Practice session 2 - Results*

1 - Lewis Hamilton (Mercedes W05) - 1m35.078 - 28 laps
2 - Nico Rosberg (Mercedes W05) - 1m35.318 - 27
3 - Valtteri Bottas (Williams FW36-Mercedes) - 1m36.279 - 24
4 - Jenson Button (McLaren MP4-29-Mercedes) - 1m36.409 - 28
5 - Sebastian Vettel (Red Bull RB10-Renault) - 1m36.436 - 24
6 - Kimi Raikkonen (Ferrari F14 T) - 1m36.529 - 19
7 - Fernando Alonso (Ferrari F14 T) - 1m36.637 - 26
8 - Kevin Magnussen (McLaren MP4-29-Mercedes) - 1m36.714 - 31
9 - Daniil Kvyat (Toro Rosso STR9-Renault) - 1m36.943 - 27
10 - Daniel Ricciardo (Red Bull RB10-Renault) - 1m37.186 - 3
11 - Jean Eric Vergne (Toro Rosso STR9-Renault) - 1m37.219 - 19
12 - Nico Hulkenberg  Force India VJM07-Mercedes) - 1m37.504 - 16
13 - Romain Grosjean (Lotus E22-Renault) - 1m37.563 - 31
14 - Felipe Massa (Williams FW36-Mercedes) - 1m37.700 - 18
15 - Sergio Perez  Force India VJM07-Mercedes) - 1m37.786 - 8
16 - Pastor Maldonado (Lotus E22-Renault) - 1m37"798 - 27
17 - Adrian Sutil (Sauber C33-Ferrari) - 1m38.010 - 25
18 - Esteban Gutierrez (Sauber C33-Ferrari) - 1m38.365 - 9
19 - Marcus Ericsson (Caterham CT05-Renault) - 1m39.069 - 22
20 - Jules Bianchi (Marussia MR03-Ferrari) - 1m39.306 - 20
21 - Max Chilton (Marussia MR03-Ferrari) - 1m39.333 - 24
22  - Kamui Kobayashi (Caterham CT05-Renault) - 1m42.760 - 3
* Unofficial timing