From press release
Nico Rosberg mastered tricky conditions to claim his fourth pole position of the season, Saturday ahead of the British Grand Prix at Silverstone.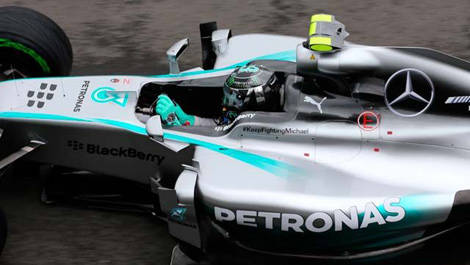 Nico Rosberg, Mercedes W05 (Photo: WRi2)
"That was one of the trickiest qualifying sessions I can remember," said Mercedes' team principal Paddy Lowe. "We had to deal with very mixed conditions throughout, swapping between intermediate and option tyres, and these are the days when it's so easy to get things wrong as a team."
Rosberg's performance secured Mercedes' eighth pole in nine grands prix this season.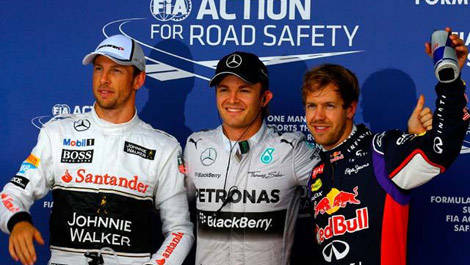 Jenson Button, Nico Rosberg, Sebastian Vettel (Photo: WRi2)
"Wow, what a qualifying. It was so tricky out there this afternoon with the rain and the conditions changing so quickly. It's very satisfying to get everything right in these conditions and be able to come out on top," said the German.
"I remembered that we were losing three or four seconds in the last corners when it was very wet so there was an opportunity to make a real improvement and that I should keep going.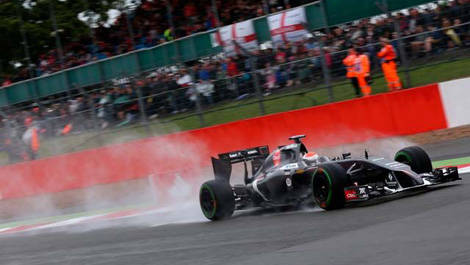 Adrian Sutil, Sauber C33 (Photo: WRi2)
"It's a great opportunity to start the race from pole."
Having pulled out of his last lap as the track conditions were improving, Lewis Hamilton was only sixth fastest during Q3.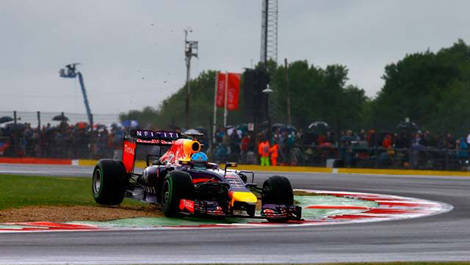 Sebastian Vettel, RB10 (Photo: WRi2)
Qualifying results* – British Grand Prix (round 9 of 19)
1.Nico Rosberg (Mercedes W05) - 1'35"766 - Q3
2.Sebastian Vettel (Red Bull RB10-Renault) - 1'37"386 - Q3
3.Jenson Button (McLaren MP4/29-Mercedes) - 1'38"200 - Q3
4.Nico Hulkenberg (Force India VJM07-Mercedes) - 1'38"329 - Q3
5.Kevin Magnussen (McLaren MP4/29-Mercedes) - 1'38"417 - Q3
6.Lewis Hamilton (Mercedes W05) - 1'39"232 - Q3
7.Sergio Perez (Force India VJM07-Mercedes) - 1'40"457 - Q3
8.Daniel Ricciardo (Red Bull RB10-Renault) - 1'40"606 - Q3
9.Daniil Kvyat (Toro Rosso STR9-Renault) - 1'40"707 - Q3
10.Jean-Eric Vergne (Toro Rosso STR9-Renault) - 1'40"855 - Q3
11.Romain Grosjean (Lotus E22-Renault) - 1'38"496 - Q2
12.Jules Bianchi (Marussia MR03-Ferrari) - 1'38"709 - Q2
13.Esteban Gutierrez (Sauber C33-Ferrari) - 1'40"912 - Q2
14.Pastor Maldonado (Lotus E22-Renault) - 1'44"018 - Q2
15.Adrian Sutil (Sauber C33-Ferrari) - no time - Q2
16.Valtteri Bottas (Williams FW36-Mercedes) - 1'45"318 - Q1
17.Felipe Massa (Williams FW36-Mercedes) - 1'45"695 - Q1
18.Max Chilton (Marussia MR03-Ferrari) - 1'39"800 - Q2**
19.Fernando Alonso (Ferrari F14-T) - 1'45"935 - Q1
20.Kimi Raikkonen (Ferrari F14-T) - 1'46"684 - Q1
21.Marcus Ericsson (Caterham CT05-Renault) - 1'49"421 - Q1
22.Kamui Kobayashi (Caterham CT05-Renault) - 1'49"625 - Q1

*Unofficial results
*
*Five-position grid penalty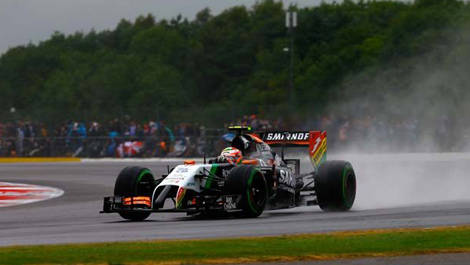 Sergio Pérez, Force India VJM07 (Photo: WRi2)