From press release
Nico Rosberg has just proved everyone in the Formula One paddock his title hopes are not dead yet.
His Mercedes teammate Lewis Hamilton has admittedly been the faster of the two this year, Rosberg being instead labelled as the consistent one.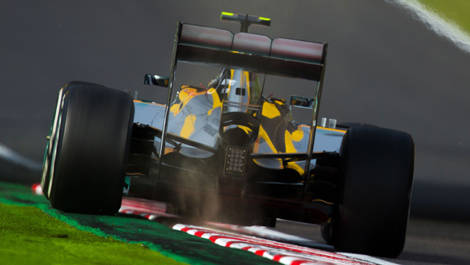 Nico Rosberg, Mercedes W05 (Photo: WRI2)
Whenever Rosberg was ahead, usually it was because Hamilton had been struck by some back luck: brake failure, fire or the like.
But in Japan, Rosberg was simply faster than Hamilton around the Suzuka circuit.
The German claimed his 12th career pole position by two tenths over Hamilton: "That was one of the best qualifying sessions we did this year," he said.
"The team did an incredible job to give me a brilliant car. It was so enjoyable to drive this wonderful track with that Silver Arrow. The balance was perfect, so I was able to push a lot and go to the limits in the corners."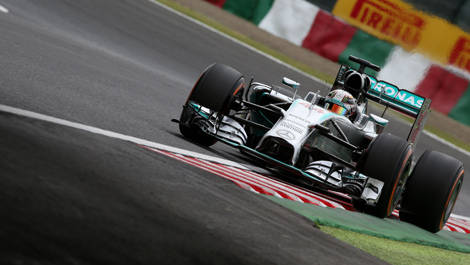 Lewis Hamilton, Mercedes W05 (Photo: WRI2)
Hamilton was satisfied with second place, considering he crashed his car coming out of turn 1 in Saturday morning's free practice session.
"It was a decent recovery considering the crash in FP3," said Hamilton.
"Nico did a great job, he looked very quick, particularly in turn 8."
It was warm and dry Saturday for qualifying, but drivers and teams expect some rain Sunday for the race.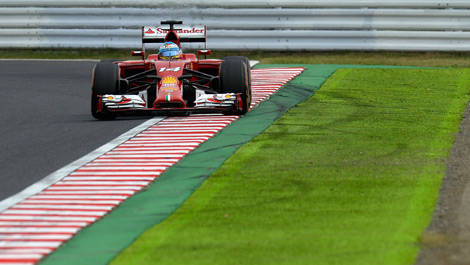 Fernando Alonso, Ferrari F-14T (Photo: WRI2)
Qualifying results* – Japanese Grand Prix (round 15 of 19)
1.Nico Rosberg (Mercedes W05) - 1'32"506 – Q3
2.Lewis Hamilton (Mercedes W05) - 1'32"703 – Q3
3.Valtteri Bottas (Williams FW36-Mercedes) - 1'33"128 – Q3
4.Felipe Massa (Williams FW36-Mercedes) - 1'33"527 – Q3
5.Fernando Alonso (Ferrari F14-T) - 1'33"740 – Q3
6.Daniel Ricciardo (Red Bull RB10-Renault) - 1'34"075 – Q3
7.Kevin Magnussen (McLaren MP4/29-Mercedes) - 1'34"242 – Q3
8.Jenson Button (McLaren MP4/29-Mercedes) - 1'34"317 – Q3
9.Sebastian Vettel (Red Bull RB10-Renault) - 1'34"432 – Q3
10.Kimi Raikkonen (Ferrari F14-T) - 1'34"548 – Q3
11.Sergio Perez (Force India VJM07-Mercedes) - 1'35"089 – Q2
12.Daniil Kvyat (Toro Rosso STR9-Renault) - 1'35"092 – Q2
13.Nico Hulkenberg (Force India VJM07-Mercedes) - 1'35"099 – Q2
14.Adrian Sutil (Sauber C33-Ferrari) - 1'35"364 – Q2
15.Esteban Gutierrez (Sauber C33-Ferrari) - 1'35"681 – Q2
16.Romain Grosjean (Lotus E22-Renault) - 1'35"984 – Q1
17.Marcus Ericsson (Caterham CT05-Renault) - 1'36"813 – Q1
18.Jules Bianchi (Marussia MR03-Ferrari) - 1'36"943 – Q1
19.Kamui Kobayashi (Caterham CT05-Renault) - 1'37"015 – Q1
20.Max Chilton (Marussia MR03-Ferrari) - 1'37"481 – Q1
21.Jean Eric Vergne (Toro Rosso STR9-Renault) - 1'34"984 – Q2
22.Pastor Maldonado (Lotus E22-Renault) - 1'35"917 – Q1
*Unofficial results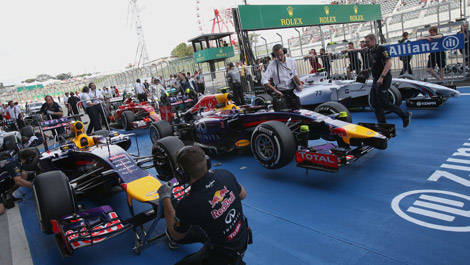 Parce ferme (Photo: WRI2)