Pirelli's engineers have investigated the tire problem that caused Sebastian Vettel to park his Red Bull-Renault early during Friday's second free practice session at Spa-Francorchamps.
Vettel was doing the long run in preparation for Sunday's Belgian Grand Prix when he picked up a puncture at the right rear corner. The German drove his RB9 slowly back to the garage without causing too much damage to the car.
The incident had many paddock dwellers recalling the tire-exploding chaos of Silverstone earlier this year, but it was not to be the case.
"Towards the end of the afternoon session, both Sebastian Vettel and Fernando Alonso had a puncture on their right-rear tire around turn 14 and we are currently investigating the cause. From initial analysis it appears that both were caused by an outside factor, probably debris on the track," said Paul Hembery, Pirelli's motorsport director.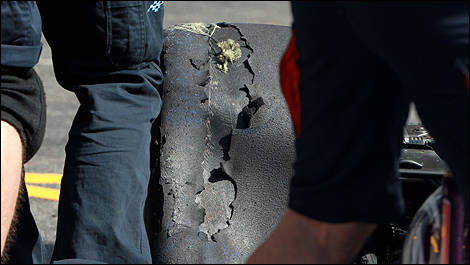 Sebastian Vettel's tire. (Photo: WRI2)