From GMM
Caterham could be left stranded without tires ahead of the forthcoming Japanese grand prix, according to the Dutch newspaper
De Telegraaf
.
The report said a source close to F1's official tire supplier has "unofficially confirmed" that Pirelli is warning Caterham it must urgently make a payment ahead of the Suzuka race early next month.
Backmarker Caterham almost collapsed mid-season following the withdrawal of support of founder Tony Fernandes, who sold the team suddenly to a mysterious group of Swiss-based Middle Easterners.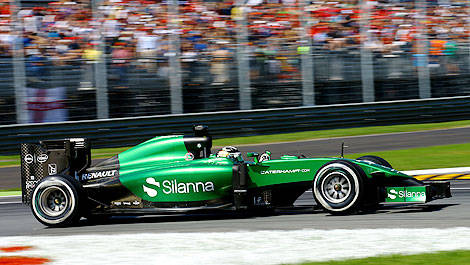 Caterham CT05-Renaut at Monza. (Photo: WRi2)
"I believe our team was not set up to race in Silverstone," one of the new bosses, Manfredi Ravetto, confirmed in Singapore. "This is the truth.
"Since new ownership came on board, I think we managed not only to race in Silverstone but also to arrive to Singapore. I must say it's not a very easy task," he admitted.
"The financial situation is not one of the easiest. We inherited a situation which was more than critical," said Ravetto.
It is rumoured the situation was so critical that Christijan Albers, who became Caterham's team boss after the takeover, quit once he realised that debts could not be paid.
De Telegraaf
claims Pirelli "is one of the main creditors" of ailing Caterham.
"The paddock is buzzing with rumours that Caterham will not be in the paddock at the end of the season," it added.