French motorsport web site F1i provided some very valuable details about the financial involvement between the mysterious Quantum Group and the Lotus F1 Team.
Angered by an article the site had posted about him and the strange delays in transferring money after Quantum's takeover of 35% stakes in the Lotus F1 Team, Mansoor Ijaz replied to F1i.
The American businessman claims that that the money had been transferred, but had not been allowed to pass through to Gerard Lopez's Genii.
"The fact is that Luxembourg isn't considered as irreproachable by the US banking system, Ijaz explained.
"That explains why we have had to review the operation and structure the financing differently. The money has been sent back to us and we have to make the payments using a different mechanism. That is not the work of a moment," he continued.
"We never wanted to communicate the deal in June (when Genii and Lotus announced it), it's Gerard Lopez (Genii boss) who took that initiative. But our investment is real and you (media) will all look bad with all your insinuations, when the deal is concluded with Lotus."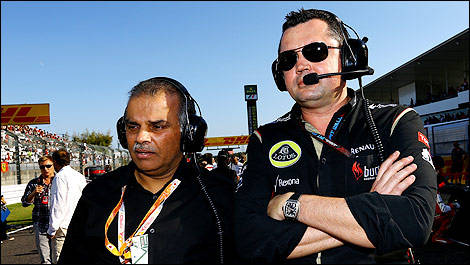 Masour Ijaz and Eric Boullier in Suzuka. (Photo: WRi2)
Our colleagues at
F1i
claim that the deal is 120 million euros for a 35% stake in the Lotus F1 team, which values the business at 400 million euros. They say that, currently, Lopez and his partner Eric Lux are putting in 8 million euros per month to fund the team.