Red Bull Racing Formula 1 emptied its garage and left Jerez early Friday after the new turbocharged RB10 suffered yet another mechanical issue.
The Christian Horner-led team decided to pack everything and return to Milton Keynes, UK and focus its attention on the next test in Bahrain.
Team newcomer Daniel Ricciardo completed just 7 laps of the Jerez circuit today. In four days, Adrian Newey's RB10 completed only 21 laps, that's 91km…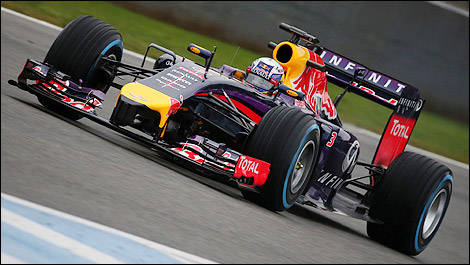 Daniel Ricciardo, Red Bull RB10, at Jerez, on Friday, January 31st. (Photo: WRi2)
"It's been a very difficult test. We have had numerous Renault issues as well as chassis cooling issues, which have affected our progress," Horner admitted.
"However, despite the lack of mileage, what we have managed to learn shows that the problems should be solvable for the next test in Bahrain. Part of the purpose of this early test was to learn about any issues ahead of the start of the season and there will now be a lot of focus on the dyno over the next few weeks," he added.
"We did seven laps and every time Daniel (Ricciardo) went out we made improvements to the control of the engine," said Andy Damerum, race engineering co-ordinator.
"We were also making fixes to the issues that have arisen from our side and we have made progress there. However, we then discovered a mechanical issue with the car and after investigation it became clear we would not be able to fix this in time to run in the afternoon, so the decision was taken to retire early, take the data we have amassed and work towards the next test in Bahrain," he concluded.
The team is apparently struggling to get the RB10 extreme packaging working at all with the higher cooling demands of the all-new turbo and ERS-powered Renault V6.
Quite simply, the car cannot keep the crucial 'power unit' cool enough. Burn marks were visible on the side of the RB10 on Friday, followed by some hasty work by the mechanics to cut holes in the bodywork.