Red Bull has reportedly offered an F1 race seat to the 16-year-old Dutchman.
Fresh out of karting, the young Max Verstappen has impressed many formula one teams this season in the European F3 championship. So much so that Mercedes even offered him a contract.
The deal, which is believed to be said and done, would see Verstappen step up to GP2 next year and eventually formula one.
But
Italiaracing
is reporting a new twist to the story.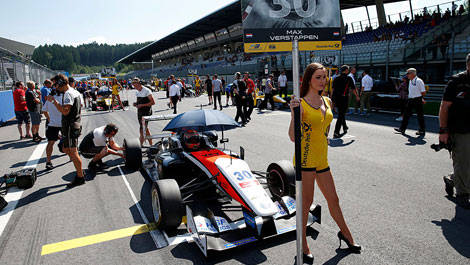 Max Verstappen met with Helmut Marko, this weekend in the paddock of the Red Bull Ring (Photo: FIA F3 European championship)
Verstappen would instead go straight to F1 in 2015… with Red Bull's junior team, Toro Rosso.
Indeed, Helmut Marko has apparently offered Verstappen a race seat in F1, just like he did last year with the 19-year-old Daniil Kvyat, who also skipped the GP2 feeder series on his way to formula one.
The big looser of course, would be Carlos Sainz Jr, the next Red Bull junior driver waiting to make the jump to F1.