Red Bull thinks it will be more competitive next weekend during the British Grand Prix at Silverstone than it was last weekend in Austria.
8 out of 11 F1 teams are based in the UK, so the British Grand Prix is considered as a "home" race by a lot of people. That means a lot of people want to do well at Silverstone.
Red Bull also wanted to do well last weekend, for F1's big return to Austria, at the newly renovated Red Bull Ring. But all the team had to celebrate was Daniel Ricciardo's eighth place. The RB10 didn't perform well on the Spielberg circuit.
But the Milton Keynes outfit hopes to do better at Silverstone.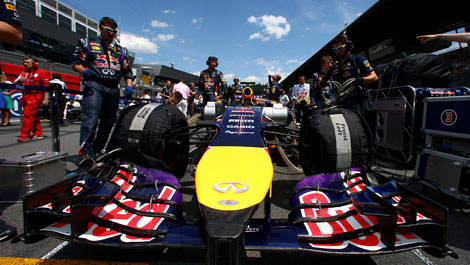 Photo: GEPA Pictures
"All things being equal obviously the Mercedes have got such an advantage at the moment it's going to be tough to beat them, but as we saw in Montreal recently, anything can happen and we're going to be pushing hard, said team principal Christian Horner.
"Renault are working hard on their side and hopefully we can give (Mercedes) a bit of a run for their money."