Adapted from GMM
According to paddock insiders, disgruntled and struggling reigning champion Vettel is the man most likely to be looking for a change of scene.
When asked about the McLaren-Vettel rumours, former driver turned pundit Patrick Tambay told
RMC
it is clear the German is feeling increasingly uncomfortable at Red Bull.
"Next year Adrian Newey will not be in the same position," he said. "He (Vettel) is losing his favourite engineer (Guillaume 'Rocky' Rocquelin). It may be time for him to look elsewhere, especially with what is happening with Daniel Ricciardo."
But even though Australian Ricciardo appears more than comfortable at Red Bull, even he is in McLaren's sights.
"We may consider Daniel Ricciardo. Nico Rosberg as well is doing well. So there are a lot of drivers we may consider," Eric Boullier admitted.
Ricciardo might be tempted to leave Red Bull because, despite his clear superiority over Vettel in 2014, he is earning much less money than the quadruple champion.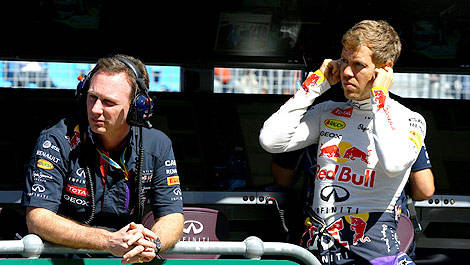 Christian Horner and Sebastian Vettel, Red Bull Racing. (Photo: WRi2)
At Monza, team boss Christian Horner dodged a specific question about whether, in light of his season, Red Bull intends to "adjust" Ricciardo's "earnings" to bring him more in line with Vettel.
Not only that, he finds himself in the awkward situation of being the only driver able to challenge the two Mercedes for the 2014 title, but not being the clear number 1 at Red Bull.
"I would love to be quicker on merit and not need team orders," Daniel Ricciardo said after Monza, "but the next couple of tracks are perfect for us so if we need to make any decisions if we can challenge Mercedes for the title then I am sure they will be made."
No so, according to Christian Horner.
"We are so far back at the moment that it is not worth getting involved (in team orders). We will let the drivers race," he insisted.
Horner adds that in the end, despite all the 'silly season' noise, he thinks all the main players will stay put for 2015.
"The music is playing at full volume now, but when it stops I think you'll see everyone in the same chairs as they were before," he is quoted by Spain's
Marca
.