From GMM
Rivals are piling pressure on Mercedes to agree to "unfreeze" engine development in formula one.
The German marque has utterly dominated the sport this year as the all-new turbo V6 era dawned.
So rivals, powered by struggling Ferrari and Renault, have argued that the strict limits on in-season development of the 'power units' should be relaxed.
For a rule change as soon as 2015, however, all teams would have to agree.
Christian Horner, boss of the works Renault team Red Bull, claimed in Russia on Friday that, in Singapore last month, Mercedes agreed to some 'unfreeze' measures.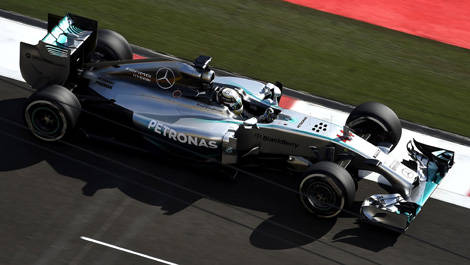 Lewis Hamilton, Mercedes W05 (Photo: WRI2)
"One minute we agree something," he said, "then suddenly people can't remember what they've agreed and they change their mind, so we've got a bit going on at the moment."
Indeed, since Mercedes allegedly 'changed its mind', F1's influential 'strategy group' got together and the majority voted for the engine unfreeze to be sent to the F1 Commission for ratification.
"We'll see what the outcome of the commission vote is," said Horner.
"FIA are in support, FOM are in support, obviously the non-Mercedes teams are in support, so we'll see what that holds in approximately a month's time."
Horner admitted, however, that for the change to be voted through for 2015, every team will need to agree.
"I agree with Christian," said Marco Mattiacci, boss of F1's other engine supplier, Ferrari.
"Now today we have the majority of the votes to move ahead on the idea to unfreeze the engine. Let's see what's going to happen during the F1 Commission," he added.