Williams head of vehicle performance Rob Smedley believes the key this year for his team will be to develop the Mercedes-powered FW36 strategically.
The Grove based team showed a lot of potential during pre-season testing, but hasn't quite been able to match the expectations over the season's first four races.
Drivers Valtteri Bottas and Felipe Massa are 7th and 11th respectively in the drivers' standings ahead of the Spanish Grand Prix.
Smedley's job is to help the team develop as the season progresses.
"Part of what I need to do is make sure that we're attacking the right areas first," the 40-year-old Briton is quoted saying by
Crash.net
.
"That's the important and the clever bit about Formula One I think; you have to realize where the big wins are and what we can put off for a week or two, a month or two, even a year, and what we need to do in the next two days. That's part of what I'm here to do."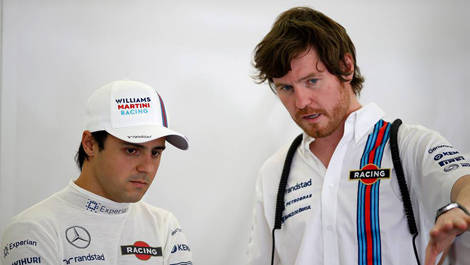 Felipe Massa, Rob Smedley (Photo: Williams)
Smedley also believes there is more to come from Massa, together with whom he worked closely at Ferrari between 2006 and 2013, before joining Williams.
"I know Felipe Massa very well - I know him inside out. He's a very, very good driver and he's been given the freedom of head-space here to do what he's paid to do, and he's delivering," Smedley told British magazine
Autosport
.
"I see Felipe now very relaxed, incredibly experienced, there's a maturity about him and he carries that very well."