In a recent interview posted on Mercedes' official site, Mercedes AMG F1 team boss Ross Brawn said the team should carry their good form into the second half of the season thanks to a number of upcoming technical developments.
Mercedes entered the mid-season break having scored three wins and four pole positions in the last five races, results that have boosted their world championship aspirations substantially. The team is currently second to Red Bull Racing in the constructors' championship with 208 points.
"The team has great spirit at the moment. I know the things that are coming through on the technical front and our hit rate has been pretty good on new technical innovations - the things that we've brought to the track have generally worked," said Brawn.
"We've got a few things coming up in the next few races which could give us that extra impetus, that extra momentum, to take us through the second half of the year," Brawn explained.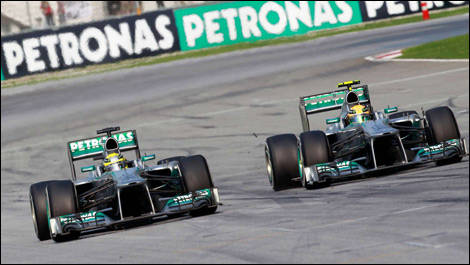 Nico Rosberg and Lewis Hamilton, Mercedes AMG. (Photo: WRi2)
The British engineer said that the team is capable to pursue the development of the current W04 car while putting massive energy into the design of the W05 turbo car of next year.
"There are areas of the 2013 car that we will continue to develop, almost until the end of season because they can follow on to 2014," Brawn explained.
"If we look at suspension systems; we think fundamentally the tires will be similar next year and therefore developing suspension systems is entirely relevant for next season.
"There are areas of the 2013 car that have no relevance to the 2014 car, so we'll draw a line under those at some point. I think teams that don't have an opportunity will just draw a line under their '13 car and get on with their '14 car. We're fortunate enough at the moment to be able to do both - we've got a strong car at the moment, a strong team, we're on a run and we don't want to spoil that," Brawn declared.