Ferrari president, Luca di Montezemolo attended the technical meeting of the Scuderia following a quite disappointing Grand Prix of Hungary for drivers Fernando Alonso and Felipe Massa.
"The Ferrari I saw in yesterday's race doesn't sit well with me," said Montezemolo during the meeting held Monday with Stefano Domenicali and the Ferrari engineers.
The President asked for an immediate upping of the beat, right from the Belgian race, to start being a contender for victory again, as had been the case up to the Grand Prix of Canada in Montreal.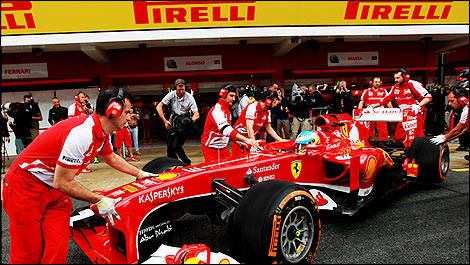 Photo: Pirelli
According to a Ferrari statement, Montezemolo also criticized Pirelli, the official tire supplier. After several teams suffered from tire delamination problems, Pirelli opted to produce updated tires that incorporate last year's structure to the compound of the 2013 tires. That updated tire was tested at Silverstone and raced in Hungary.
The introduction of this new tire is a variable that definitely did not suit the Ferrari F138.
"Pirelli's choice contributed to artificially altering the hierarchy in the field, something that has not pleased the President or the men of the Scuderia. This topic will be the subject of further debate in the near future," said the Ferrari press release.