After a season of unexpected struggle at McLaren, Mexican race car driver Sergio Perez enters a new chapter in his Formula 1 career this year, lining up at Sahara Force India.
Despite the lack of results he faced at McLaren in 2013, Perez is disappointed, but not unhappy.
"I don't regret anything: McLaren is a great team and I will always respect them. Unfortunately, for various reasons, the season did not go as expected and we ended up without a podium. The situation I am in now is different, but it's also exciting," said Perez to Formula1.com.
McLaren boss, Martin Whitmarsh played a major role in finding Perez a new home in Sahara Force India.
"When it was confirmed that I was leaving McLaren, Sahara Force India was always my first option. It is a very good team and in the same way as me, it is hungry for success," Perez said in the interview.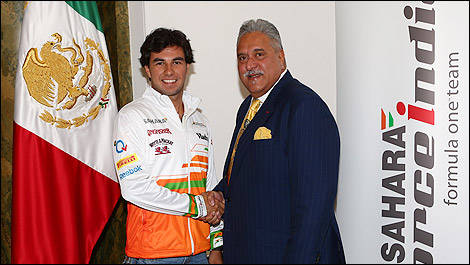 Sergio Perez and Dr Vijay Mallya. (Photo: Sahara Force India F1 Team)
"The discussions with Sahara Force India started around the time of the race in Austin. I attended a couple of meetings and held several telephone conferences before everything came to a positive agreement. The official announcement that I was going to race for Force India then came on December 10 at the Mexican Embassy in London with Vijay Mallya. It was a quite emotional moment," he added.
The Mexican strongly believes in the potential of Vijay Mallya's team.
"It is a team that has constantly progressed - and a lot recently when they finished sixth in the constructors' championship - so I think this is a great opportunity for me. I feel confident that together with Sahara Force India we can do a good job over the winter and start the season in good shape. The team did that last year and they have been focused on the 2014 car for a long time. These are all positives," he said.
Perez will have a new teammate to work with in 2014, German Nico Hulkenberg.
"Nico is a very competitive and experienced driver. I hope to learn as much from him as I can and I'm definitely looking forward to racing next to him," Perez explained.
"I hope to learn as much from Nico as I expect him to learn from me, so eventually we will embark on a steep, two-way learning curve - hopefully with eyebrow raising results! I think I'm a better driver after the year with McLaren, and being strong in every area is - and always will be - my focus," Perez concluded.