Pirelli will stage an extensive and important Formula 1 tire test at Bahrain International Circuit this week, from December 17 to 19.
Interestingly, only four of the 11 F1 teams will take part in the three-day test.
Red Bull Racing and Scuderia Ferrari have opted to run their reserve drivers while Mercedes AMG decided to put Nico Rosberg in the W04 all three days.
Mercedes AMG F1 wrote on its Twitter account Monday: "For those asking, Lewis Hamilton has already begun his high-altitude winter training programme, which is why he won't be in Bahrain".
The Italian tire manufacturer has confirmed it will bring prototype tires from across its 2014 dry-weather range.
December 2013 Bahrain tire test
Teams line-up:

• Red Bull Racing: Sebastien Buemi - Dec. 17-18-19
• Mercedes AMG: Nico Rosberg - Dec. 17-18-19
• Scuderia Ferrari: Pedro de la Rosa - Dec. 17-18; Jules Bianchi - Dec. 19
• Scuderia Toro Rosso: Jean-Eric Vergne - Dec. 17 and 18 am; Daniil Kvyat - Dec. 18 pm and 19.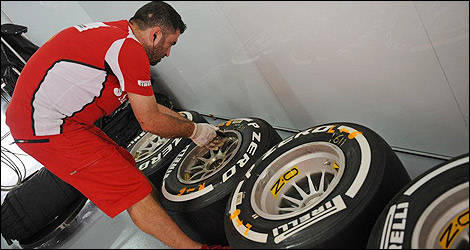 Photo: Pirelli