The new V6 turbo hybrid engine to be introduced in Formula 1 starting next year is a totally different beast from the current normally aspirated V8.
Engineers from both sides - the three engine suppliers and the teams – are working together to install the various components of the Power Unit, namely the V6 engine, the batteries, the turbocharger, the KERS and the radiators inside the car.
''One of the key areas we needed to investigate was the packaging of the Power Unit. The current V8 is 95kg, 100kg if you add the weight of the MGU (Motor Generator Unit, which converts mechanical energy to electrical)", said Axel Plasse, Director of programmes and customer support at Renault Sport F1.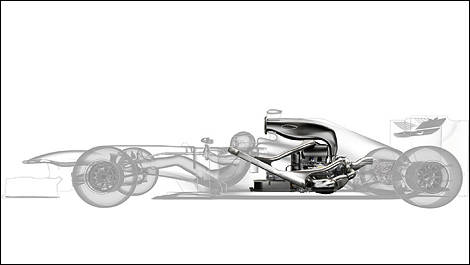 Image: Renault Sport F1
"The weight increases to 120kg when you include the ancillary parts, such as the radiators and other cooling devices. With the 2014 Power Unit, the V6 turbocharged engine will be a minimum of 145kg, plus 35kg for the battery. At 180kg, this is an 80% increase over the current units, plus a further 20kg for the ancillaries such as the intercooler and other radiators", Plasse added.
''The Power Unit is therefore much more integrated and central to design, for example the turbo overlaps the gearbox so it intrudes into the space where there was a clutch or a suspension part. The energy store is also much larger, which has an impact on chassis length, fuel volume and radiator position, amongst other items," explained the French engineer.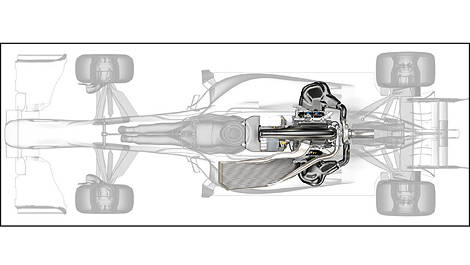 Image: Renault Sport F1
''Since the first days of the turbo units in the 1970s, Renault's philosophy has always been to facilitate chassis integration, so at a very early stage we had regular video chats, conference calls and site visits to our teams, particularly Red Bull Racing, our development partners, to decide the direction and key milestones so designs on chassis and engine could be synchronized", Plasse ended.