The new F1 turbo hybrid Power Unit generates a lot of heat.
Additional hybrid systems, a more complex exhaust system, plus an intercooler required for the pressure charging system are all contributing factors to the cooling requirements of the car.
Managing heat is not only necessary in terms of car integrity but also performance and efficiency.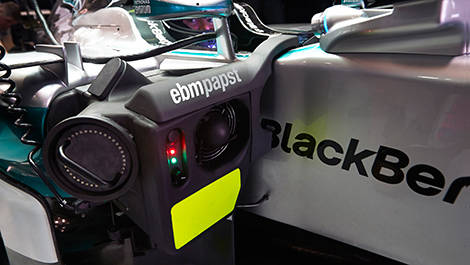 Special cooling fans, Mercedes AMG, (Photo: Mercedes AMG)
Two opposing influences thereby exist: one focused on ensuring that each of these components operates within an optimal temperature range, the other on packaging the related cooling systems in such a way as not to detract from the aerodynamic efficiency of the car.
Several companies have developed off-board cooling solutions for the F1 cars. One of them is ebm-papst who is now working with Mercedes AMG.
The company has produced a highly specialised off-board cooling solution optimised for the sidepod radiators and roll-hoop of the F1 W05 race cars which will be deployed when the car is on the grid and in the garage.
Ambient temperatures at F1 races can reach up to 40°C with ambient on-car temperatures up to 75°C and an operating temperature of over 120°C for the sidepod radiators.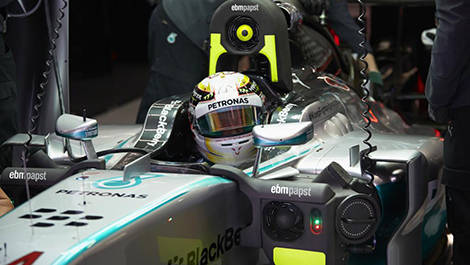 Special cooling fans, Mercedes AMG. (Photo: Mercedes AMG)
For grid and parc fermé the sidepods and roll-hoop will be cooled with the new 'S Force' axial fans whose performance curve match the high back-pressure characteristics of the Mercedes system and provide a 518% improvement in delivered airflow. This high performance contained within a small packaging size meets the requirements for a small portable powerful system.
When the car is in the garage, the sidepods and roll-hoop will be cooled via a larger low-noise forward-curved centrifugal solution where the motor and impellor have been integrated into a bespoke designed scroll housing to fit perfectly on to the car.