On this day, October 8, 1978 Canadian Gilles Villeneuve won his maiden Grand Prix in front of a home crowd here in Montreal.
I was there, frozen like a Popsicle like the other tens of thousands of race fans. I was sitting in the "gold" grandstands located right in front of the pits of the prestigious Scuderia Ferrari.
Heavy rain caused chaos during the two days of practice and qualifying. At the end of each day, the old garages, located at the far end of Ile Notre-Dame, were transformed into a big car wash as the F1 cars returned covered with mud!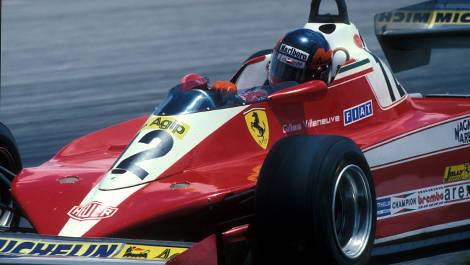 Gilles Villeneuve, Ferrari 312 T3 (Photo: WRI2)
We later found out that Villeneuve made a hazardous Michelin tire choice for the race. The cold temperature would give him reason if he could drive fast yet carefully without damaging them.
We all followed his progress during the race. We all cheered for Gilles when he passed Alan Jones (Williams) and then Jody Scheckter (Wolf), before race leader Jean-Pierre Jarier in the second Lotus dived into the pits with terminal rear brake problems. Villeneuve was leading the race!
From that moment on, no one was cold despite the very light snow that began to fall.
At the conclusion of his 70th lap, Gilles Villeneuve, in his Ferrari 312 T3, passed the finish line in triumph, saluted by Michel Hanson waving the checkered flag.
The Villeneuve legend had just begun.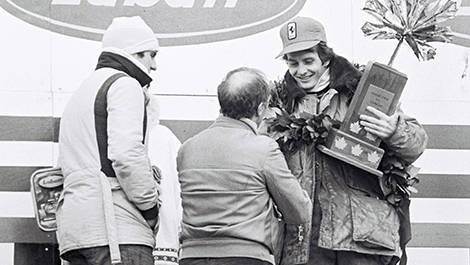 Gilles Villeneuve son the podium, wearing his agent Gaston Parent's coat. (Photo: WRI2)