Nico Rosberg leading Lewis Hamilton in the morning, Lewis Hamilton leading Nico Rosberg in the afternoon.
In the two free practice sessions of the British Grand Prix, Fernando is third with his Ferrari.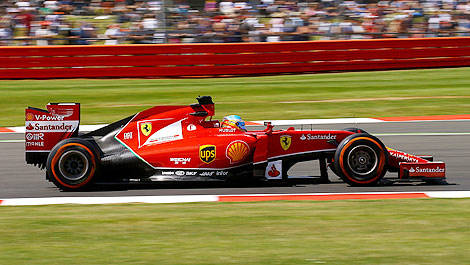 Fernando Alonso, Ferrari F14 T. (Photo: WRi2)
Susie Wolff made history by becoming the first woman to participate an official Formule 1 session since Giovanna Amati in 1992. Unfortunately, due to an oil pressure problem on her Williams, she only covered four laps.
Regarding the reserve drivers, Daniel Juncadella was aboard the Sahara Force India. Giedo Van der Garde drove the Sauber and Robin Frijns was in action with Caterham.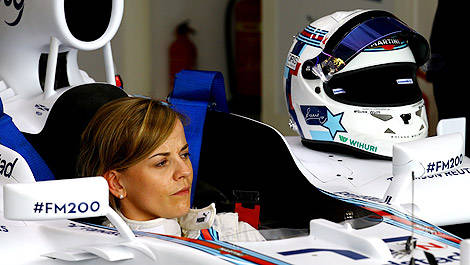 Suzie Wolff aboard the Williams FW36. (Photo: WRi2)
Felipe Massa had a big crash, causing an interruption of 17 minutes to clear his Williams.
Despite his best lap time, Lewis Hamilton was visibly disappointed in the afternoon, unable to properly prepare the race with only 14 laps.
Just like in the morning, Daniel Ricciardo is fourth with Red Bull, ahead of his teammate Sebastian Vettel, and Kimi Raikkonen with the second Ferrari.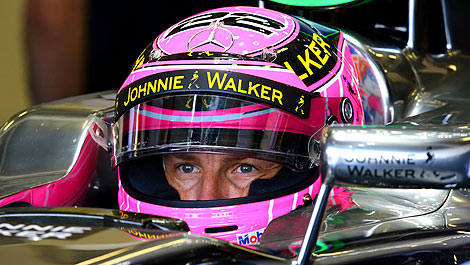 The pink helmet of Jenson Button, as a tribute to his father. (Photo: WRi2)
Free Practice 1 - Results*

1 - Nico Rosberg (Mercedes W05) - 1:35.424 - 25
2 - Lewis Hamilton (Mercedes W05) - 1:36.155 - 22
3 - Fernando Alonso (Ferrari F14 T) - 1:36.263 - 23
4 - Daniel Ricciardo (Red Bull RB10-Renault) - 1:36.623 - 21
5 - Kimi Raikkonen (Ferrari F14 T) - 1:36.703 - 23
6 - Sebastian Vettel (Red Bull RB10-Renault) - 1:36.921 - 20
7 - Jenson Button (McLaren MP4-29-Mercedes) - 1:36.963 - 25
8 - Daniil Kvyat (Toro Rosso STR9-Renault) - 1:37.175 - 29
9 - Jean-Eric Vergne (Toro Rosso STR9-Renault) - 1:37.227 - 25
10 - Kevin Magnussen (McLaren MP4-29-Mercedes) - 1:37.231 - 30
11 - Sergio Perez (Sahara Force India VJM07-Mercedes) - 1:37.720 - 22
12 - Romain Grosjean (Lotus E22-Renault) - 1:37.910 - 21
13 - Esteban Gutierrez (Sauber C33-Ferrari) - 1:38.056 - 18
14 - Daniel Juncadella (Sahara Force India VJM07-Mercedes) - 1:38.083 - 23
15 - Giedo Van der Garde (Sauber C33-Ferrari) - 1:38.328 - 19
16 - Jules Bianchi (Marussia MR03-Ferrari) - 1:38.917 - 12
17 - Felipe Massa (Williams FW36-Mercedes) - 1:39.461 - 7
18 - Max Chilton (Marussia MR03-Ferrari) - 1:39.814 - 24
19 - Marcus Ericsson (Caterham CT05-Renault) - 1:40.597 - 19
20 - Robin Frijns (Caterham CT05-Renault) - 1:42.261 - 11
21 - Susie Wolff (Williams FW36-Mercedes) - 1:44.212 - 4
22 - Pastor Maldonado (Lotus E22-Renault) - Aucun chrono - 2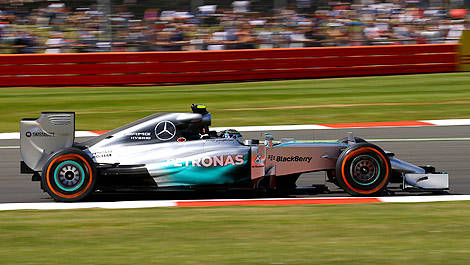 Nico Rosberg, Mercedes W05. (Photo: WRi2)
Free Practice 2 - Results*

1 - Lewis Hamilton (Mercedes W05) - 1:34.508
2 - Nico Rosberg (Mercedes W05) - 1:34.736
3 - Fernando Alonso (Ferrari F14 T) - 1:35.244
4 - Daniel Ricciardo (Red Bull RB10-Renault) - 1:35.511
5 - Sebastian Vettel (Red Bull RB10-Renault) - 1:35.627
6 - Valtteri Bottas (Williams FW36-Mercedes) - 1:36.016
7 - Jenson Button (McLaren MP4-29-Mercedes) - 1:36.228
8 - Kevin Magnussen (McLaren MP4-29-Mercedes) - 1:36.299
9 - Kimi Raikkonen (Ferrari F14 T) - 1:36.554
10 - Jean-Eric Vergne (Toro Rosso STR9-Renault) - 1:36.583
11 - Felipe Massa (Williams FW36-Mercedes) - 1:36.671
12 - Daniil Kvyat (Toro Rosso STR9-Renault) - 1:36.778
13 - Esteban Gutierrez (Sauber C33-Ferrari) - 1:36.951
14 - Pastor Maldonado (Lotus E22-Renault) - 1:37.064
15 - Romain Grosjean (Lotus E22-Renault) - 1:37.097
16 - Sergio Perez (Sahara Force India VJM07-Mercedes) - 1:37.236
17 - Nico Hulkenberg (Sahara Force India VJM07-Mercedes) - 1:37.449
18 - Adrian Sutil (Sauber C33-Ferrari) - 1:37.520
19 - Jules Bianchi (Marussia MR03-Ferrari) - 1:38.658
20 - Kamui Kobayashi (Caterham CT05-Renault) - 1:39.068
21 - Max Chilton (Marussia MR03-Ferrari) - 1:39.224
22 - Marcus Ericsson (Caterham CT05-Renault) - 1:39.762
* Un-official results