German car manufacturer Mercedes-Benz produced two hot videos that debut innovative 360 degree filming technology to allow fans to watch the action from any angle.
The filming of the 360 degree videos took place at Silverstone Circuit in late January, part of an official filming day by the Mercedes AMG Formula 1 Team.
Filmed in high definition using an array of six cameras recording 40 frames per second, the footage follows Nico Rosberg as the new Mercedes AMG W05 takes to the track for the very first time.
His teammate Lewis Hamilton joined in as he took to the track at the wheel of an E 63 AMG S Estate before being chased down by an E 63 AMG S Saloon.
The E 63 AMG S Estate is powered by a hand built 5.5-litre bi-turbo V8 producing 585 hp through the rear wheels via a limited slip differential.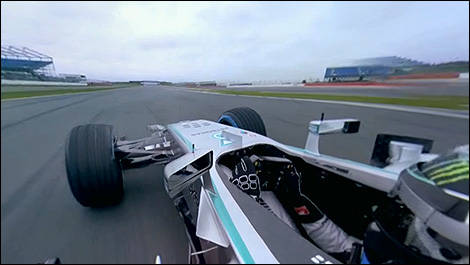 Photo: Mercedes-Benz AMG F1