Toto Wolff, Head of Mercedes-Benz Motorsport, said he was worried about the implications of the radio instructions' clamp down imposed by the FIA.
As we explained yesterday, it means that the Formula 1 teams will no longer be allowed to tell their drivers what to do to alter their speed, and how to modify the settings of their cars.
A Formula 1 engineer also confirmed
Auto123.com
that the teams will no longer be allowed to tell their drivers how to adjust the buttons and knobs located on the steering wheel to change the settings of the car.
"It has been confirmed that we will now see less radio traffic," Wolff said.
"This is a complex and controversial decision which will require a significant effort from the teams to understand how best we can work around it", the Austrian explained.
"The directive is not yet fully clear and there will inevitably be some controversy, so it will need further clarification as to how much the essential on-track procedures will be affected - particularly before the start of the race," Toto Wolff added.
UPDATE
Formula 1 teams will not be allowed to issue coded messages to drivers as a way of getting around the clampdown on team radio instructions.
Here are some example of what will be alloweed, and not:
Allowed
- Telling a driver when he is allowed to or meant to stop for new tires
- Team orders in terms of overtaking or letting a teammate past
- Warning a driver about the traffic situation during qualifying and the race
- Safety warning relating to yellow flags or dangerous situations on the track
Not allowed
- Informing a driver to change any settings on his car to improve its performance
- Informing a driver about his fuel consumption and how to manage his pace
- Informing a driver about his own performance in sectors and where he can improve
- Informing a driver about the condition or state of his tires
- Informing a driver how best to approach the formation lap or setting changes to make better start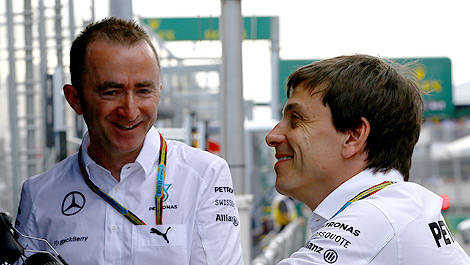 Paddy Lowe and Toto Wolff, Mercedes AMG. (Photo: WRi2)