After eight seasons, the FIA Formula One World Championship will say goodbye to the normally aspirated 2.4 litre V8 engine formula at the end of the Brazilian Grand Prix Sunday.
This will be the ultimate race for the Renault, Mercedes, Ferrari and Cosworth V8 engines.
Renault Sport F1 has released some very interesting facts about its engine that powered Fernando Alonso to the world title in 2006, and Sebastian Vettel to the world championship four years in a row, from 2010 and 2013.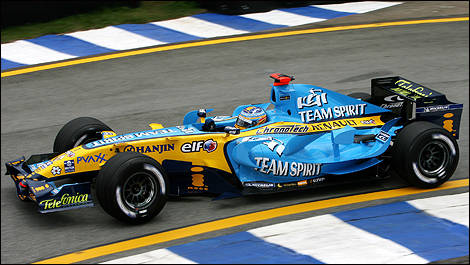 Fernando Alonso, Renault 2006. (Photo: WRi2)
A few facts from the Renault V8 engine:

8 years of competition
59 wins - 40% of wins in the V8 era
65 pole positions
55 fastest laps
3665.5 points
5 Constructors' world titles
5 Drivers' world titles
750 bhp maximum power (2013 version, typical car installation, typical temp/pressure/humidity)
18,000 rpm maximum engine speed (2013 version)
95kg weight, FIA perimeter
1,271 engines built, 683 for track use, 588 for dyno use
2,000,000 km total
5,000 components per engine
7,600,000 parts used
21,800 pistons used
43,200 inlet valves used
45,900 exhaust valves used
43,800 connecting-rod bolts fitted
22,000 spark plugs used
10,600 oil filters used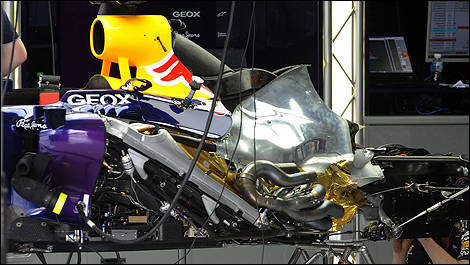 Renault V8 engine in the Red Bull. (Photo: WRi2)
Did you know?

A throttle can go from completely closed to completely open in 10 to 15 milliseconds, the duration of light for a photo flash strobe.
At full power, the engine 'sucks' more than 500 litres of air per second.
The camshafts turn at half the engine speed, so the valves will be able to open 150 times per second.
When running at maximum speed, the force on the pistons will be more than 8,000 times its own weight (0 to 100 km/h in less than 1/2000th sec).
The connecting rod is one of the most stressed parts of any piston engine. At the Bathurst circuit in Australia there is a straight named the Conrod Straight as there are so many engine failures there!
The machining tolerance of the steel crankshaft is down to 1 micron.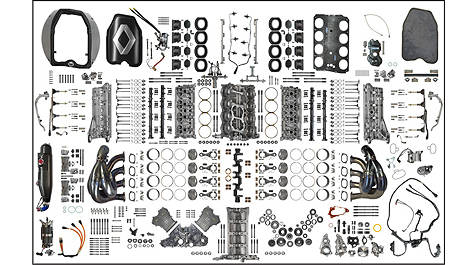 Photo: Renault Sport
The oil circulates round the engine at a rate of approximately 60 litres per minute. There is about 5 litres of oil, so the oil does completes approximately 12 laps per minute of the engine and cooling circuit.
During a race, the exhausts of the RS27 will reach up to 1000 °C, an average consumer oven will only reach 240 °C. These temperatures are very close to the melting point of most metals; therefore, special lightweight materials are used.
One boost of KERS is equivalent to a shot of 80bhp for 2 to 3 seconds.
To cool this heat approximately five litres of water will be in the engine at any one time. At maximum revs the water will be circulated at 240 litres per minute (more than a fireman's hose)! The heat dissipated in the water could heat a 2,500 m2 building at 0 °C ambient temperature.