Red Bull Racing's Sebastian Vettel set the fastest time of the first two free practice sessions of the Grand Prix of Europe held on the street circuit of Valencia, Spain.
Pastor Maldonado of the Williams-Renault team emerged fastest in the morning session with a time of 1m40.890.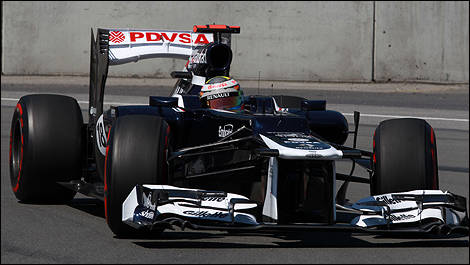 Pastor Maldonado, Williams. (Photo: WRi2)
Behind him the two Renault-powered Red Bulls of Vettel and Mark Webber took second and third. Jenson Button planted his McLaren-Mercedes in fourt place.
In front of his fans, Fernando Alonso of the Scuderia Ferrari was fifth while his teammate, Felipe Massa, was only 14th.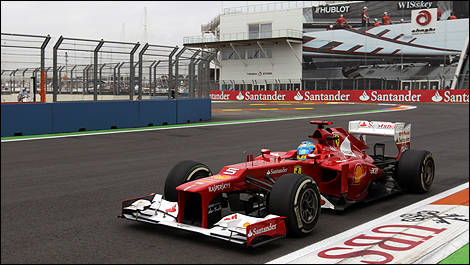 Fernando Alonso, Ferrari. (Photo: WRi2)
Two team ran their test drivers. Jules Bianchi was 15th for force India while Valtteri Bottas was 16th for Williams.
In the afternoon, Vettel put his Red Bull RB8 in first place in 1m39.334 ahead of the surprising Nico Hulkenberg of Force India.
Sauber's Kamui Kobayashi was third quickest in front of Michael Schumacher in the fastest Mercedes AMG, Bruno Senna (Williams-Renault) and Hulkenberg's teammate, Paul di Resta.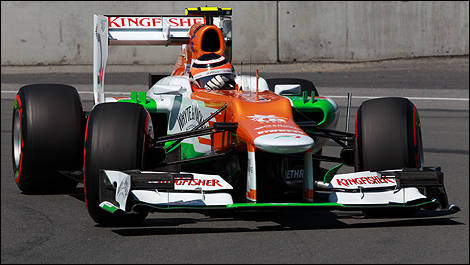 Nico Hulkenberg, Sahara Force India. (Photo: WRi2)
Alonso finished the session in 7th place while Massa was 15th.
The two McLarens were down the field with Button 12th and Hamilton 14th.
Pedro de la Rosa damaged his HRT-Cosworth after the car understeered straight into the outside tire wall.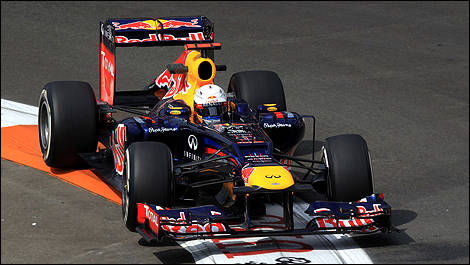 Sebastian Vettel, Red Bull. (Photo: WRi2)
Grand Prix of Europe, Valencia, Friday first free practice session*:

1 - Pastor Maldonado (Williams FW34-Renault) - 1'40"890 - 22 laps
2 - Sebastian Vettel (Red Bull RB8-Renault) - 1'40"973 - 21
3 - Mark Webber (Red Bull RB8-Renault) - 1'40"984 - 19
4 - Jenson Button (McLaren MP4/27-Mercedes) - 1'40"994 - 19
5 - Fernando Alonso (Ferrari F2012) - 1'41"065 - 26
6 - Paul di Resta (Force India VJM05-Mercedes) - 1'41"105 - 15
7 - Michael Schumacher (Mercedes MGP W03) - 1'41"117 - 22
8 - Lewis Hamilton (McLaren MP4/27-Mercedes) - 1'41"158 - 18
9 - Nico Rosberg (Mercedes MGP W03) - 1'41"182 - 21
10 - Kimi Raikkonen (Lotus E20-Renault) - 1'41"620 - 21
11 - Romain Grosjean (Lotus E20-Renault) - 1'41"784 - 15
12 - Kamui Kobayashi (Sauber C31-Ferrari) - 1'41"838 - 19
13 - Sergio Perez (Sauber C31-Ferrari) - 1'41"861 - 16
14 - Felipe Massa (Ferrari F2012) - 1'42"109 - 20
15 - Jules Bianchi (Force India VJM05-Mercedes) - 1'42"175 - 21
16 - Valtteri Bottas (Williams FW34-Renault) - 1'42"299 - 24
17 - Heikki Kovalainen (Caterham CT01-Renault) - 1'42"442 - 26
18 - Jean-Eric Vergne (Toro Rosso STR8-Ferrari) - 1'42"758 - 26
19 - Daniel Ricciardo (Toro Rosso STR8-Ferrari) - 1'42"777 - 28
20 - Vitaly Petrov (Caterham CT01-Renault) - 1'43"209 - 19
21 - Charles Pic (Marussia MR01-Cosworth) - 1'44"173 - 18
22 - Pedro de la Rosa (HRT F112-Cosworth) - 1'44"996 - 15
23 - Narain Karthikeyan (HRT F112-Cosworth) - 1'45"120 - 23
24 - Tim Glock (Marussia MR01-Cosworth) - 1'45"380 - 7
Grand Prix of Europe, Valencia, Friday second free practice session*:

1 - Sebastian Vettel (Red Bull RB8-Renault) - 1'39"334 - 33 laps
2 - Nico Hulkenberg (Force India VJM05-Mercedes) - 1'39"465 - 32
3 - Kamui Kobayashi (Sauber C31-Ferrari) - 1'39"595 - 20
4 - Michael Schumacher (Mercedes MGP W03) - 1'39"601 - 27
5 - Bruno Senna (Williams FW34-Renault) - 1'39"644 - 34
6 - Paul di Resta (Force India VJM05-Mercedes) - 1'39"700 - 32
7 - Fernando Alonso (Ferrari F2012) - 1'39"733 - 34
8 - Romain Grosjean (Lotus E20-Renault) - 1'39"868 - 33
9 - Mark Webber (Red Bull RB8-Renault) - 1'39"901 - 30
10 - Nico Rosberg (Mercedes MGP W03) - 1'39"926 - 32
11 - Kimi Raikkonen (Lotus E20-Renault) - 1'39"945 - 34
12 - Jenson Button (McLaren MP4/27-Mercedes) - 1'39"990 - 33
13 - Pastor Maldonado (Williams FW34-Renault) - 1'40"075 - 29
14 - Lewis Hamilton (McLaren MP4/27-Mercedes) - 1'40"147 - 25
15 - Felipe Massa (Ferrari F2012) - 1'40"244 - 35
16 - Sergio Perez (Sauber C31-Ferrari) - 1'40"511 - 29
17 - Vitaly Petrov (Caterham CT01-Renault) - 1'40"963 - 20
18 - Daniel Ricciardo (Toro Rosso STR7-Ferrari) - 1'41"121 - 32
19 - Heikki Kovalainen (Caterham CT01-Renault) - 1'41"197 - 38
20 - Jean-Eric Vergne (Toro Rosso STR7-Ferrari) - 1'41"263 - 29
21 - Timo Glock (Marussia MR01-Cosworth) - 1'42"424 - 21
22 - Charles Pic (Marussia MR01-Cosworth) - 1'42"958 - 30
23 - Narain Karthikeyan (HRT F112-Cosworth) - 1'44"201 - 33
24 - Pedro de la Rosa (HRT F112-Cosworth) - 1'44"260 - 12
* Unofficial timing