Vijay Mallya's Sahara Force India Formula 1 team currently lies 5th in the constructors' standings with 98 points, ahead of some pretty strong rivals such as McLaren, Lotus and Sauber.
The Indian team has entered a technical partnership with Mercedes.
Would things not be much simpler if Mallya could run a customer car in the near future instead of having to design and build its own machines?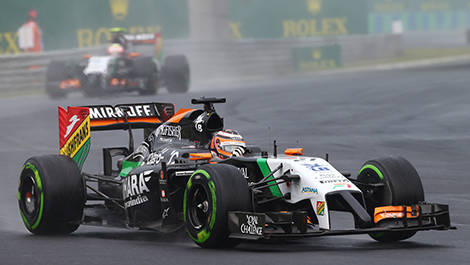 Nico Hülkenberg, Sahara Force India (Photo: Sahara Force India)
"Customer cars would be disastrous. Not just for the paddock but also for the sport," Mallya replied in an interview posted on
Formula1.com
.
"The DNA of Formula 1 has always been about passionate teams. When you look at the history of how these teams started - be it Ferrari, Williams, Brabham or McLaren - they have all been entrepreneurs and racing enthusiasts passionately going racing in what evolved to become this big thing called Formula 1. That's part of our DNA," he explained.
"And if a small team gets ahead of a bigger team, the amount of enthusiasm and fan support is fantastic. My understanding of the reports I get is that in the recent races where Williams has been doing so well, the whole level of excitement has almost doubled. People like to see a small team take on the big boys. Why should that change?" the Indian billionnaire asked.