American businessman, Gene Haas, has shown interest in setting up a Formula 1 team. Find out why this bizarre idea does in fact make a lot of sense.
Gene Haas, 62, is a billionaire and the owner of Haas Automation Inc., America's leading manufacturer of CNC machine tools with branches in Belgium, China, and India.
His company reports that 2012 was the best year in the company's 30-year history, with revenues exceeding $967 million -- an increase of 11.5% over 2011 -- and CNC machine tool production exceeding 13,300 units, an increase of 5%. The 2012 numbers reinforce
Haas Automation
's position as the world's leading CNC machine tool builder.
Gene Haas already owns
Windshear
, one of the best wind tunnels in the world, located in Concord, North Carolina.
Haas said his Formula 1 cars would be designed in-house, but built by Dallara. The Italian company already has a state-of-the-art facility in Indianapolis, IN where it builds the current DW12 Indy cars, chassis, and spare parts.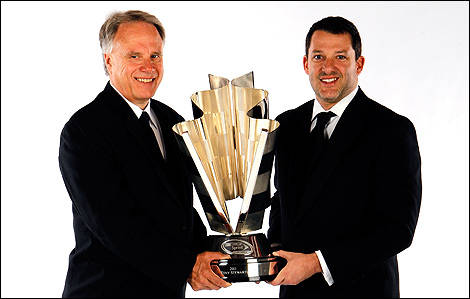 Gene Haas and Tony Stewart. (Photo: Chris Graythen/Getty Images for NASCAR)
Haas and racer Tony Stewart co-own Stewart-Haas Racing, a very successful NASCAR Sprint Cup team.
In June 2011, Tony Stewart and Lewis Hamilton traded race cars at Watkins Glen, NY. Hamilton took the wheel of Stewart's Sprint Cup car while the American drove (quite successfully, too) the Mercedes-powered McLaren.
NASCAR driver, Tony Stewart, is a living legend in the United States. His presence in F1 would instantly create a serious buzz around F1 in the USA, and probably insure the long-term success of the Grand Prix in Austin, and the one in New Jersey when it becomes a reality.
Tony Stewart's involvement in F1 would also create an interest amongst NASCAR fans for Grand Prix racing.
Less seriously, even the name of the team -- Haas Racing Development -- would please Bernie Ecclestone. Why? Because as the owner of Brabham back in the '70s, Ecclestone registered the team under Motor Racing Development.