Friday, the Ferrari Superamerica 45 will make its world debut at the Concorso d'Eleganza de Villa d'Este in Italy. If you've never heard of the machine before, that's because the automaker has no intention of producing it. It's a unique one-off model ordered by Peter Kalikow, a New York collector celebrating 45 years as a Ferrari client.
Custom built according to his specifications, the car features a folding carbon fibre roof that disappears into the trunk.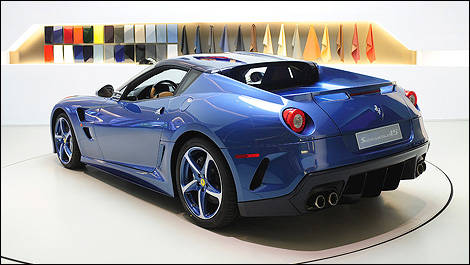 Photo: Ferrari
Look a little closer, and you'll notice dual air intakes on the front fenders, a chrome grille and polished aluminium A-pillars, rear-view mirrors and door handles.
A "Blu Antille" paint job completes the look, designed to match with Kalikow's 1961 Superamerica 400 convertible.
The Superamerica 45 also features colour-coordinated wheels as well as slightly darker, carbon fibre side skirts, rear diffuser and front splitter.
The cabin is also a study in blue, draped in Cuoio leather and accentuated by carbon fibre trim and a high-tech infotainment system.