• Ford is already working on the follow-up to its F-150 Lightning pickup.
• The company plans to eventually produce 500,000 electric pickup trucks per year in Tennessee.
• The 2nd vintage of the Ford F-150 Lightning will go into production in 2025.
Ford will have been the first of the three major American manufacturers to offer an electric pickup truck on the market, with the Lightning version of its F-150. It will have to upgrade EV sooner rather than later, however, because other manufacturers are coming with their own all-electric pickups.
To meet those newer models head-on, Ford is already preparing a follow-up to its current F-150 Lightning. The company says it will have a new electric pickup truck in production in 2025. Details are scarce at the moment, but the new model does already have an internal code name: Project T3.
The company promises a truck with greater adaptability (thus more highly modifiable and updatable) and delivering greater range and towing capacity (which is already at 10,000 lb). The model will be equipped for over-the-air updates and upgrades.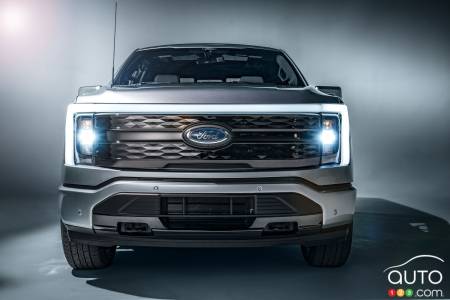 Ford's next electric pickup will be built at the Blue Oval City complex, a 3,600-acre, $5.6 billion campus outside Memphis, Tenn. The new, state-of-the-art facility also includes a battery plant, being built in partnership with energy company SK Innovation.
Ford will benefit in two ways with this facility; a simpler, more efficient and cost-effective procurement and manufacturing process, which will eventually allow it to ramp up production of electric pickup trucks to 500,000 units per year.
This is good news. Ford announced earlier that it will lose $3 billion dollars this year on sales of its electric models. The company expects these to be profitable in the medium term and we can see what's behind this optimism.
As for the Lightning model, Ford said earlier this month that it hopes to ramp up production this year to a rate of 150,000 units per year starting in December 2023. The firm also plans to assemble more Mustang Mach-Es through an increased pace at the plant.
More production will be required to be profitable, as increased volume translates into lower production costs. The company will also need to make the kind of project it plans in Tennessee a reality in order to truly reduce its operating costs.