Ford's new Fiesta ST is ready to roll and debuting in Geneva. Slated for European delivery in 2013, the Fiesta ST features a 1.6-litre EcoBoost engine that offers 0-100 km/h acceleration times of less than seven seconds and a top speed of 220 km/h. Despite its smaller size (the last was a 2.0-litre), the turbocharged engine produces 180 hp, up 20 per cent.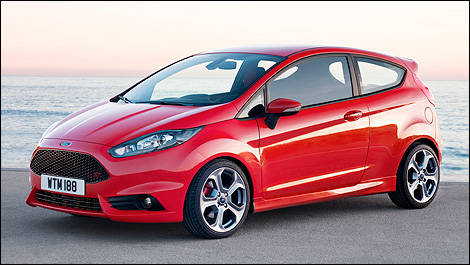 Photo: Ford
The first Fiesta ST since it disappeared from showrooms in 2008, the all-new model also produces 20 per cent fewer C02 emissions.
Ford says it delivers significantly better ride and handling through a specially tuned chassis that's 15 mm lower than the standard Fiesta, enhanced Torque Vectoring control, and three electronic stability control models, which they put to the test on more than 5,000 km on the Nürburgring Nordschleife.
Standard Recaro seats are appearing for the first time; it will also feature MyKey and SYNC technologies.
Following a positive response at the Los Angeles Auto Show last fall, Ford says it is "open to the idea" of introducing it in North America.