WAYNE, Michigan —
In an era less concerned about fossil fuel consumption, this vast factory was known as the Michigan Truck plant. It built Ford Expeditions and Lincoln Navigators, while further back in its history, in the fifties and sixties, it built Ford's yacht-like station wagons.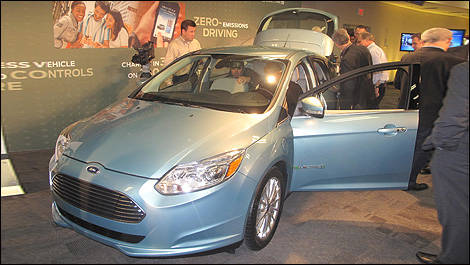 Photo: Mike Goetz/Auto123.com
Now it's called the Michigan Assembly Plant, and it's all about being modern and green. Ford just invested $500 million so it could produce the
2012 Ford Focus
and some its variants, and do so in a very green way.
Focus production started in the spring of 2011. In November, it began to produce the
2012 Ford Focus Electric
, right on the same line as the gas-powered Focus models.
Electric Production
"When the
C-MAX Hybrid and C-MAX Energi
go into production here, we will be the first plant in the world to have (such) an integrated build," said John Fleming, Ford's Executive Vice President, Global Manufacturing. "The plant will be responsible for installing five different powertrains – two different gas engines, a hybrid, a plug-in hybrid, and a battery electric – all on the same line."
The situation neatly illustrates Ford's electric strategy – electrify a platform, not a single model, and make gas and electric models similar enough that they can share many components and manufacturing processes. It also makes sense from a sales standpoint. If electric vehicles are tough sells, plant production can easily to switch to other models.
"Each station is ready to accept any type of vehicle that comes their way," notes Fleming. "Because we are electrifying platforms and not one-off specialty vehicles, we can manage to assemble the cars affordably, and with the same quality measures as the traditional gas models rolling down the same line."
Body construction has traditionally been the assembly task that hinders and/or limits a plant's flexibility. In the past, each specific body part needed a specific set of tooling, so each body part could be located, clamped and welded. The plant's state-of-the-art tooling systems can be programmed for each vehicle coming down the line, eliminating the need for model-specific tooling and/or downtime for tooling changeover. The use of this tooling makes this plant the most flexible, high-volume facility in the Ford family.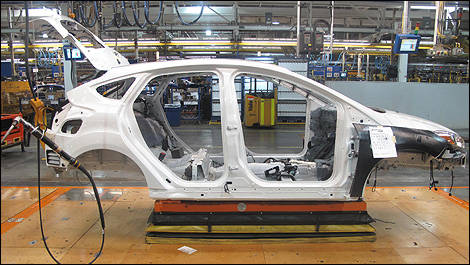 Photo: Mike Goetz/Auto123.com