Green Focus demonstrates that style need not be sacrificed for green motoring
Open-top motoring and environmentally friendly operation is a relatively new concept, and for the British International Motor Show, Ford is showing off a model that brings eco-friendly motoring to a new level.
The American carmaker has created a concept Focus Coupe-Cabriolet that is capable of running on bio-ethanol fuel. It will headline the display of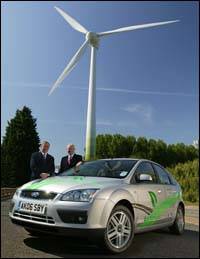 (Photo: Ford Motor Company)
flexible fuel vehicles (FFV's) from Ford at the show.
The underlying principle of the Green Focus Cabriolet is that style and looks need not be sacrificed in order to enjoy a vehicle that is practical and offers environmentally friendly operation. The Green Focus Cabriolet concept features a specially selected arrangement of graphics applied over the standard paint, visually representing its environmental friendliness.
The Green Focus Cabriolet is flanked by a pair of other FFV's at the show, including the C-Max FFV which goes on sale today in the UK. The C-Max is a multi-purpose, multi-activity family vehicle which is available in several trim levels as well as sedan or estate configurations. The FFV technology in the C-Max doesn't command a price premium from buyers, with the starting price of ₤14,695 being the same for a conventional gasoline-fueled model as for the FFV.
Similarly, the Focus commands no price premium between regular gasoline and bio-ethanol models. The Focus LX in FFV form can run on any combination of gasoline and bio-ethanol fuels in the same tank and is priced at the same ₤14,045 as the regular model.
Continuing a tradition of innovation, the Focus FFV was the first bio-fuel car for sale in Britain, hitting the streets last year. Ford of Britain chairman and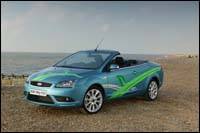 (Photo: Ford Motor Company)
managing director, Roelant de Waard is excited about the lineup.
"Our new FFVs, the Coupé-Cabriolet concept and C-MAX show that every model in the Focus range - Britain's top-selling car - can run on renewable bio-ethanol." he said.
Flexible fuel technology for Ford consisted of a joint effort between the carmaker and bio-ethanol retailers. De Waard mentioned the need for Government to take part and make flexible fuel motoring even more attractive for customers in the UK.