From press release
Sergey Sirotkin won his first career Formula Renault 3.5 race this weekend, as the championship raced in his home country, Russia.
From pole, the Sauber reserve driver got the best of Zoel Amberg and Pietro Fantin at the start.
Despite Amberg's offensive on lap 7, Sirotkin maintained the lead, and on lap 29, crossed the finish line to win at the Moscow Raceway, which is set to host the first ever Russian Grand Prix later this season.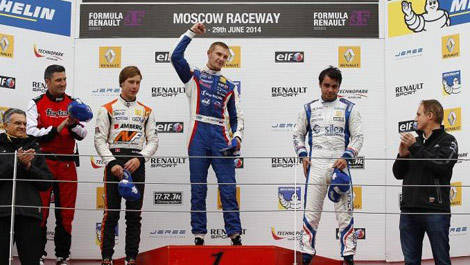 (Photo: World Series by Renault)
"It's incredible!" said the Russian teen.
"It's the best moment of my life. The season started so rough, but the team took advantage of the short break to come back stronger. There was not better place to do it!
"Free practice went well and it continued in the race. It wasn't easy managing the back tire temperature, but we made it.
"A huge thank you to the whole team!"