• Its makers have shared a new video previewing the next version of Forza Motorsport.
• The next generation of the popular video game is expected sometime this year.
• The game will run on the Xbox console, but also on PCs running Windows 10 or 11.
In the world of racing video games, there's the Gran Turismo franchise for PlayStation console owners, and there's Forza Motorsport for those whose allegiance has been pledged to Xbox.
The seventh edition of Gran Turismo was released last year. Almost a year ago, the next Forza Motorsport was announced, but few details have been released since. Now a new video has surfaced that should get fans of the game salivating.
The preview video just shared video shows some pretty heart-stopping graphics, which bring the game closer to reality than ever.
Of course, not everything has been revealed by the game's makers in this clip, but welearn more about how the creators of the game went about creating certain atmospheres, lighting and even the accumulation of dirt on the cars when they are on track. We also know how many cars will be available for placement at the start-line: Over 500, including 100 that have never been represented in the game. All of them highly customizable, of course. Twenty track locations will also be available at launch.
There's even talk of "800 unique upgrades" for the cars on offer.
Browse cars for sale available near you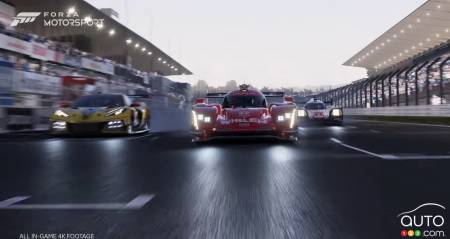 We also note that the weather and time of day are in real time and each track is affected by different temperatures, humidity and rubber build-up. Clouds are also procedurally generated. All of this is impressive, although these features are also found in Gran Turismo 7.
Where Forza is going to be ahead of the curve is with real-time graphics. It will be able to run in 4K resolution with ray-tracing technology enabled during races, all at 60 frames per second. In Gran Turismo 7, ray tracing is limited to replays, photo modes and menus, and the frequency only reaches 30 frames per second. This preview video shows how spectacular the result is with this new version of Forza.
The only unknown is the release date. It was originally scheduled for the spring of this year, but we'll have to see if any delays postpone the big moment. The game will launch on the Xbox console and is playable on PCs running Windows 10 or 11.