Garant accessories for your car are great tools to help you survive winter. Here are three cool products and innovations that could make a good Christmas gift. For more information, visit the Garant website.
Clear snow without scratching! This scratch-free snowbrush features an EVA foam head, a technology that is much gentler on your car's paint finish. Its oval-shaped handle made of aluminum and its comfort foam allows for better gripping and ensures optimal ergonomics. Also equipped with a scraper made of super-rugged polycarbonate material, this tool is a must-have in your vehicle.
This snow shovel is equipped with a telescopic handle made of ultra-light aluminum, making snow-clearing that much easier, and it fits easily in the trunk of your car. A useful and compact shovel that will spare you trouble and backaches!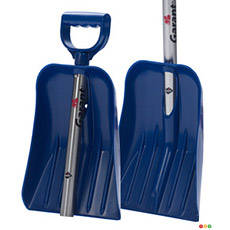 Nothing beats these rugged polyethylene traction aids for keeping you from getting stuck this winter. These aids can be attached together, and store easily in the trunk of your vehicle. Now you can stop worrying!