It's no secret that General Motors plans to launch many more crossovers in the next few years, but this latest bit of news may come as a surprise. According to GM Inside News, the automaker is looking to develop a direct competitor to the Nissan Juke.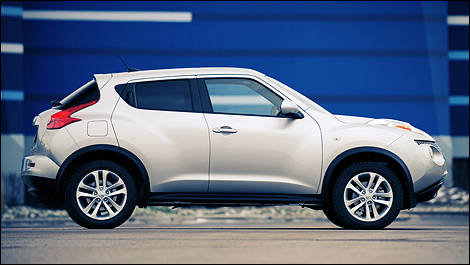 Nissan Juke (Photo: Matthieu Lambert/Auto123.com)
If the project gets the green light, we would likely see a Gamma-based vehicle (same platform as the Chevrolet Sonic) featuring heritage Chevrolet design cues and overall edgy styling. Doesn't that sound like the late HHR?
In the event of a no-go, the alternative may be a traditional wagon variant of the next-generation Chevrolet Cruze. However, GM's decision makers still fear that drivers in North America (the main target market) may not exactly embrace the new product, regardless of body styles.
Whether you like the Juke's oddball styling or not, the small crossover aimed at what Nissan calls "young, urban males" has undeniable qualities, such as go-kart handling and a responsive four-cylinder turbocharged engine. Unfortunately, only 2,277 units have been sold during the first seven months of 2011.
Source:
GM Inside News