Unveiled at the Moscow International Auto Show, the BRABUS Business Lounge is a Mercedes-Benz Sprinter decked out in sumptuous amenities and tech-gadget goodies to create the ultimate business lounge for all your high-powered, high-brow transactions (or just to sit there on your MacBook Air and try to look important).
Outfitted with four business seats in the back that face each other for all those important business meetings, the BRABUS Business Lounge also allows you to integrate your notebook or tablet into the vehicle's media centre. And, yes, there's a coffee machine. And a cooler (for those celebratory business meetings).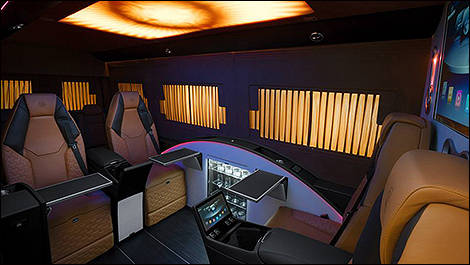 Photo: BRABUS
It's not just the interior of the Sprinter that got a spiffy business upgrade, the exterior features 18" Monoblock wheels and a sexy black finish that's oh-so Armani along with the new front bumper.
No pricing available, but our guess is if you're a high enough powered business tycoon who's constantly on the move and this spikes your interest, money isn't that much of an issue for you and you're gonna have one in your fleet, regardless.
Source: blog.dupontregistry.com