Former World Rally Champion, Petter Solberg captured victory at the round of the FIA World Rallycross Championship held at the Grand Prix de Trois-Rivieres.
The weather was perfect with nice sunshine and almost-filled grandstands.
Things started well for the Canadian during the first qualifying heats with Villeneuve taking a win and Carpentier finishing third.
Both continued to do well, especially Carpentier who ran a strong 4th heat to secure a spot for the semi-finals.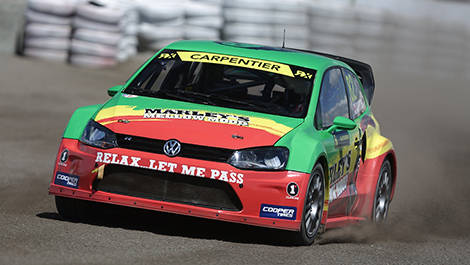 Photos: Philippe Champoux
Villeneuve saw his engine cut during Heat 3, most probably as a consequence of a broken fuel tank. The former F1 World Champion did not run Heat 4.
"It's a very frustrating end to the weekend after we fought so hard in the opening two heats, to put us sixth. The fuel tank was ripped off over a jump, which has never happened before and although the team worked hard to try and repair the damage in between the heats, there just wasn't time," said Villeneuve.
Meanwhile, Petter Solberg was putting on a fantastic show on the track. He won the first semi-final while Carpentier, also driving superbly, claimed second place in the other sem-final.
Solberg won the final ahead of Anton Marklund and Timur Timerzyanov. Carpentier, in his first experience in world rallycross, finished sixth.
"I can't explain how happy I am to have made it to the final," beamed the French Canadian. "Before today my only aim was to reach the semis and to be in the final in front of such an amazing home crowd on my rallycross debut is more than I could ever have hoped for."