Memo Rojas and Alex Tagliani both stormed to pole position, Friday night during their respective qualifying run at the Kansas Speedway road course.
Reigning Daytona Prototype (DP) champion Memo Roja, aboard his BMW/Riley, beat Gustavo Yacaman, in a Ford/Riley. The second row is all Corvette's, with Action Express's Christian Fittipaldi lining up beside Burt Frisselle.
DP points leaders Alex Popow and Ryan Dalziel had to settle for eighth place in their BMW/Riley.
In GT, IndyCar veteran Alex Tagliani replaced Max Papis, off competing in Nationwide, as Jeff Segal's co-driver in the AIM Motorsports Ferrari 458. The Canadian, in his first race aboard a Ferrari, recorded a second pole position in as many weekends.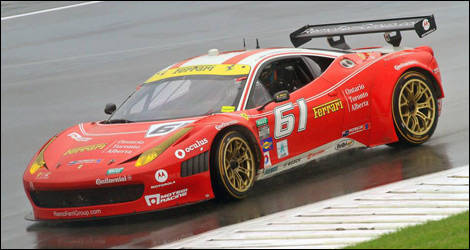 Alex Tagliani, Ferrari 458 (Photo: Grand-Am)
Tagliani was on pole of the NASCAR Canadian Tire race last weekend at Trois-Rivières.
Leh Keen made it an all-Ferrari front row when he recorded the second fastest lap, aboard his Scuderia Corsa Ferrari 458. Emil Assentato went further, making it a top three lockout, in the AIM Autosport Ferrari.
Tom Long (Mazda 6) recorded a fifth pole in GX.
Qualifying results – Kansas Speedway (Grand-Am)
Pruett-Rojas (Riley-BMW) – Ganassi - 1'09"883
Wilson-Yacaman (Riley-Ford) - Shank - 1'09"950
Barbosa-Fittipaldi (Corvette DP/Coyote) – ActionEx - 1'10"055
Frisselle-Frisselle (Corvette DP/Coyote) – ActionEx - 1'10"081
Angelelli-Taylor (Corvette DP/Dallara) – Taylor - 1'10"184
Taylor-Westbrook (Corvette DP) – SpiritOfDaytona - 1'10"461
Fogarty-Gurney (Corvette DP/Riley) – Stallings - 1'10"481
Dalziel-Popow (Riley-Ford) – Starworks - 1'10"511
Cameron-Nonnamaker (Riley-BMW) – Sahlen - 1'10"957
Negri-Pew (Riley-Ford) – Shank - 1'11"308
Potolicchio--Valiante-Sarrazin (Corvette DP/Coyote) – 8Star - 1'11"323
Di Guida-Bourdais (Corvette DP/Coyote) – 8Star - 1'12"653
Hartley-Kaffer-Mayer (Riley-BMW) – Starworks - 1'12"939
Nonnamaker-Nonnamaker (Riley-BMW) – Sahlen - 1'14"221
Tagliani-Segal (Ferrari GTS3 458) - AIM - 1'14"956
Balzan-Keen (Ferrari GTS3 458) – Corsa - 1'15"216
Assentato-Lazzaro (Ferrari GTS3 458) – AIM - 1'15"498
Edwards-Liddell (Chevy Camaro) – Stevenson - 1'15"528
Lindsey-Long (Porsche 997) - Park Place - 1'15"776
Curran-Said (Corvette Z06) – Marsh - 1'15"982
Auberlen-Della Lana (BMW M3) – Turner - 1'16"118
Lally-Potter (Porsche 997) – Magnus - 1'16"498
Marsal-Johnson (BMW M3) - Turner - 1'16"636
Boden-Sellers (Audi R8) – FallLine - 1'18"549
(...)